Covid-19 Update
Live Well Kent services in the West Kent area are continuing to provide support while adapting the way we work to follow the latest official guidance.
For further information on Covid-19 please see our dedicated page.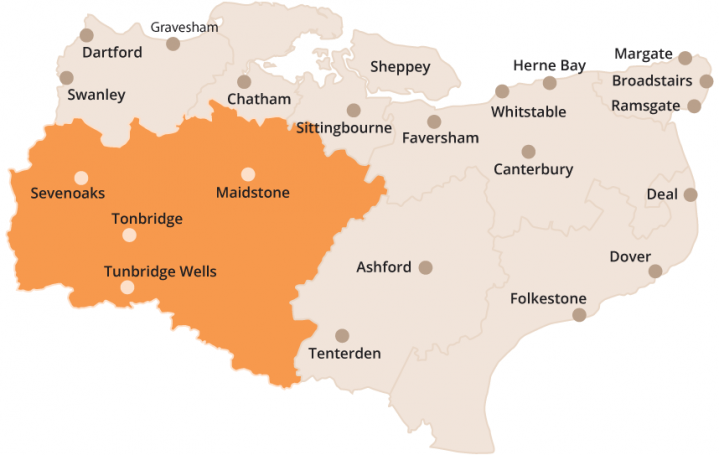 This page contains services relevant to the following postcode areas:
ME6 ME10 ME14 ME15 ME16 ME17 ME18 ME19 ME20 TN1 TN2 TN3 TN4 TN8 TN9 TN10 TN11 TN12 TN13 TN14 TN15 TN16 TN17 TN18 TN27
We are in the process of updating the below information. In the meantime please click here to see which services we offer. Thank you for your patience.
---
CORE PROGRAMMES
---
West Kent Mind
Life Skills Course

Does the way you think affect the way you feel?
Perhaps thinking about the future makes you anxious. Or thoughts about the past make you depressed. Or your harsh inner critic makes you feel bad about yourself. But it doesn't have to be like that!
Announcing Life Skills, a new programme to help you challenge unhelpful thinking and behaviour and make positive changes in your life. Life Skills is a programme of six 90-minute psychoeducational classes held at locations in Ashford, Tonbridge, Tunbridge Wells and Sevenoaks. Courses in Edenbridge and Paddock Wood will also be scheduled.
How does it work?
Life Skills is based on Cognitive Behavioural Therapy (CBT) principles. CBT is a form of psychology that has impressive evidence for its effectiveness and this programme follows the thinking behind CBT. It will help you to identify unhelpful thought patterns which, together with certain behaviours, serve to maintain problems rather than cure them. You will learn new skills that are proven to be effective in helping you to manage or cure problematic moods and behaviour.
Life Skills is a programme of classes and not a therapy group, so we will not ask you to disclose sensitive or personal material. We will use case studies as examples.
What will I learn?
By the end of the programme you will:
have a good understanding of anxiety, depression and related problems
understand how your thinking affects your mood and behaviour
understand how negative moods and behaviours are maintained
be able to challenge unhelpful thinking
develop and use a range of strategies to help you manage mood and behaviour
Mid-Kent Mind
Coping with Life Course (CWL)
Running in Maidstone and Canterbury & Coastal
Coping With Life is a 5 week course of 2 hour sessions to help people develop coping strategies for dealing with mental health problems that are affecting their day to day life. This course utilises Cognitive Behavioural Coaching techniques and  self-analysis exercises to enable participants to:
Manage Anxiety by understanding what anxiety is and how it is triggered, learning skills to help lower anxiety and deal with fight or flight situations effectively.
Manage Depression by understanding the thoughts, feelings and behaviours that create depression, develop skills to help change this cycle and learn to use coping tools to deal with times when they feel low.
Manage Stress by identifying the causes and effects of stress and learn practical skills to help manage and reduce stress more effectively.
---
PEER-LED PROGRAMMES – Project Based
---
West Kent Mind
The peer led programmes are suitable for anyone who would like to and is able to engage in a group activity. The actual projects will be decided with the group once they start to try to match the project to the skills, interests of the group etc.… An example of a project: Art in Mind – aims to develop and deliver an art exhibition. Type of activities – introduction to art and group discussion, creating art works, planning exhibition, assigning tasks e.g. venue, invitations ends with an art exhibition. Groups are facilitated by a Wellbeing Project Worker and supported by Peer Volunteers. People can start at any time.Click and Walk, Community Nature and Eco Therapy, Music for Wellbeing, Make friends with a book.
Tonbridge: WK Mind Wellbeing Centre, 3 St Mary's Road, Tonbridge TN9 2LD
Sevenoaks: WK Mind Wellbeing Centre, 34 St John's Road, Sevenoaks TN13 3LW
Bore Place
Market Garden
Organised activity based on growing of organic fruit and vegetables, dependent on produce available. Cooking
You will cook a simple healthy main meal, working with our chef and/or assistant chef using food from the Market Garden. Wildlife Gardening
Learning the benefits of providings a garden that is a place for birds, bugs and wildlife to include doing an activity in the garden. Craft Activity
It is a dependent on group interests which will be indentified in initial meeting. Physical Activity
You can take part in some or all of the Field Trail around Bore Place, led by a member of the Bore Place staff (approximately 2.5 miles).
Blackthorn Trust
Cooking Group
Learn to cook nutritious meals on a budget alongside food safety and hygiene. Gardening Group
Set in our organic vegetable, fruit and flower garden. Develop skills for your own outside space and get fitter too whilst you interact with nature. Baking Group
Baking artisan bread in our bakery you'll learn how to create bread and dough products for sale in our café and for our customers. Stained Glass Crafts Group
Come and join our therapeutic stained glass course where you will learn to safely design, cut and solder artwork for sale to customers. Craft Group
Improve your creativity and dexterity by learning techniques with paper, paint, pastels, felt and create items for sale.
Park Art
Tunbridge Wells Hub
This will run over 12 sessions with the 1st Session being a presentation and ' Ideas Gathering' This is an opportunity to produce art work, with a theme of 'Do not Judge' supported by a volunteer and staff, that will lead to an exhibition finale – to showcase people's creativity and expression.
---
CONDITION BASED PROGRAMMES
---
Bi-polar Support Group
Self-help support group, facilitated by a person with lived experience. The group shares information, experience and self-management techniques in a confidential and supportive environment. Helps people living with Bi-polar manage their long-term condition.
Hearing Voices Group
This group is suitable for people who experience things differently from others e.g. hearing, seeing, feeling, tasting or smelling something that others do not and may also include people living with distressing beliefs.
Personality Disorder Group
All groups are run by an experienced Wellbeing Project Worker assisted by skilled volunteers and occasional guest speakers for additional expertise. Creative Minds includes: Visual arts, introduction to crafts, make friends with a book, drama, dance and wellbeing though music.
---
SOCIAL SUPPORT
---
West Kent Mind
Creative Minds
Visual arts, introduction to crafts, make friends with a book, drama, dance and well-being through music. Natural ways to Wellbeing
Gardening, wildlife walks, birdwatching, foraging and wildlife photography. Living Well
Healthy eating, cookery, mood and food, walking/running, sports awareness and relaxation techniques.
Tunbridge Wells Mental Health Resource Hub
Community Meal
Join us to help prepare and enjoy a nutritious lunch with staff, volunteers and peer support. Enjoy sharing experiences and making friends in a supportive environment.
Needlecraft
Enjoy working on your own project, learning sewing, knitting and crochet skills in a supportive environment.
Walking Group
Walk and talk: Enjoy fresh air, exercise and peer support in Tunbridge Wells and the beautiful West Kent countryside. Itinerary set each month.
Book and Film Review Group
An informal group – the group will choose a book to read or film to watch and then meet to discuss and explore ideas in a supportive atmosphere.
Social Support
General social support and Art and Craft sessions. Pop in for a cuppa and/or work on craft projects. Materials provided. Meet staff, volunteers and staff and enjoy sharing experiences and making friends in a supportive environment.
Mid-Kent Mind
Garden Sheds
Garden Sheds is a peer support activity group that offers the opportunity to learn about garden maintenance, landscaping and growing your own food and flowers. Led by our wellbeing staff and volunteers
Culture Clubs Arts & Crafts 
Culture Club Baking

Mindful Social Group
The Mindful Social group offers you a chance to relax and be with your peers in a safe environment with refreshments provided and a wellbeing worker offering information and support. We also provide mindful activities including a weekly quiz for everyone to take part in to help keep our minds active and engaged.
Running For My Mind
Based on the Couch to 5K basic training programme our Running group aims to get novice runners to a 5k standard through a twelve week programme. Facilitated by a qualified sports coach, who has represented GB in Triathlons this group offers a friendly way to improve both your physical and mental health.
---
EMPLOYMENT SUPPORT
---
Shaw Trust
One to one support
Job Clubs
Personal Development Courses
Employability Courses
---
HOUSING SUPPORT
---
West Kent Housing


One to one support Clinics
---
VOLUNTEERING
---
We're looking for volunteers to run fun, engaging activities for our clients that improve their wellbeing such as photography groups, arts and craft sessions or gentle exercise groups. We also need volunteers who can work with our clients on a one-to-one basis to help them reach their goals. You can give from two hours per month and we provide full support and training.
To find out more about our volunteer roles, please contact Alison Grainger on 07779 453770 or email Alison.Grainger@shaw-trust.org.uk
To apply now, click here (opens in new window) to complete our online application form.
---
OTHER MENTAL HEALTH SERVICES
---
Improving Access to Psychological Therapies (IAPT)
Ieso:
Go to: www.iesohealth.com, email info@iesohealth.com or call 0800 074 5560
Insight Healthcare:
Go to www.insighthealthcare.org, email kent@insighthealthcare.org or call 0300 555 5555
KMPT Primary Care Psychological Therapies:
Go to www.kmpt.nhs.uk or call 0800 279 9500
Sleepstation:
Providing support for insomnia and improving sleep.
Go to www.sleepstation.org.uk, email info@sleepstation.org.uk or call 0333 800 9404
We Are With You (formerly Think Action):
Go to www.WeAreWithYou.org.uk
---
Community Mental Health Team (CMHT)


Maidstone CMHT
Go to www.kmpt.nhs.uk or call 01622 766900
Location: Albion Place Medical Centre, Maidstone, ME14 5TS
South West Kent CMHT
Go to www.kmpt.nhs.uk or call 01892 709211
Location: Highlands House, Tunbridge Wells, TN1 2JN
The community mental health teams provide support and treatment in the community to adults between the ages of 18-65 who are experiencing a mental illness. We provide assessment of their current need and treatment for service users with moderate to severe mental health needs.
The team includes psychiatrists, community mental health nurses, occupational therapists, psychological services and support staff. We also work in partnership with social care.
Social workers provide assessment under the Care Act 2014 and work with service users who have social care eligibility.
We offer a comprehensive assessment of health and social care needs and signpost service users to the most appropriate service or offer interventions.
---