Coronavirus Update
Live Well Kent services in Ashford are continuing to provide support while adapting the way we work to follow the latest official guidance.
Please see details on how our services are being delivered.
For further information on Coronavirus please see our dedicated page.
This page contains services relevant to the following postcode areas:
CT4 ME13 ME17 TN17 TN18 TN23 TN24 TN25 TN26 TN27 TN30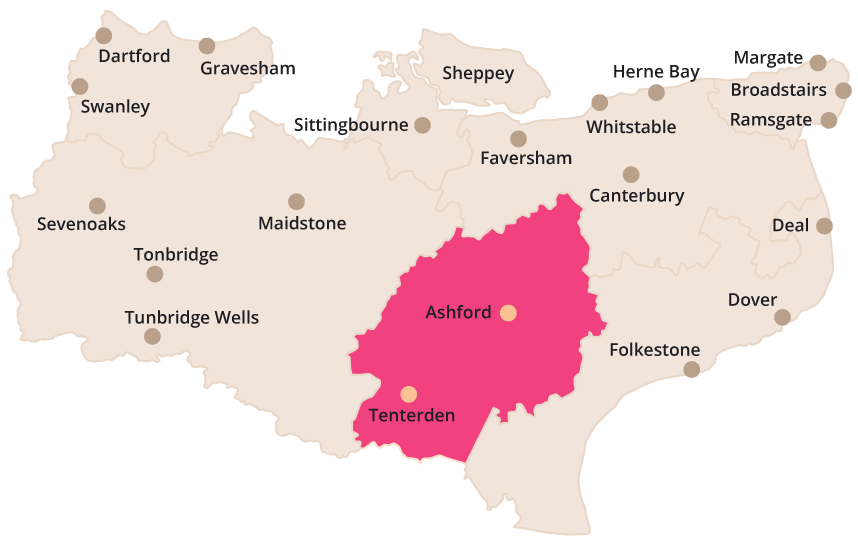 ---
CORE PROGRAMMES
---
Wellbeing Course delivered by Choice Support
6 week course to help clients learn about the Six Ways to Wellbeing to improve their management of daily life.
Learn about available support, Recognise signs, symptoms & develop coping mechanisms, Learn about the theory of CBT, Discover the importance of diet, healthy sleep, smoking/alcohol, Learn how to cope with anxiety.
Ashford Live Well Centre
Wednesday – 10am-12pm for 6 weeks
Managing Depression Delivered by West Kent Mind
6 week course to help clients develop an understanding and coping strategies for Depression.
Learn what causes depression and risks of self-harm & suicide, Explore the basics of CBT, Analyse thoughts, feelings & behaviours looking at common unhelpful thinking patterns,  Be able to challenge unhelpful thinking, Identify methods to help plan a balanced day (routine, pleasurable activities).
Ashford Live Well Centre
Thursday – 10am-11.30am for 6 weeks
Managing Stress and Anxiety delivered by West Kent Mind
6 week course to help clients develop coping strategies for Anxiety & Stress.
Understand stress and anxiety, physical symptoms and triggers, Learn CBT basics, Awareness of unhelpful thinking patterns, feelings and behaviours associated with anxiety, Examine anxious behaviours in particular 'safety' & 'avoidance', Plans for sustained recovery and dealing with relapse.
Ashford Live Well Centre
Tuesday – 10am-11.30am for 6 weeks
---
PEER-LED PROGRAMMES – PROJECT BASED
---
Marchwood Forest
Marchwood – Natural Environment
Take Off – Ashford Live Well Centre
Cycle/Recycle Project
TBA Dance Group
Ashford Live Well Centre, 1st Wednesday of every month – 10.30am-12.30pm Yoga Group
Ashford Live Well Centre, 3rd Wednesday of every month – 2pm-3.30pm
Canterbury Art Studio
Art Project with Exhibition 
---
PEER-LED PROGRAMMES – CONDITION BASED
---
Take Off – Depression Group

A positive and constructive environment which aims to provide a safe space in which service users can discuss and support one another in mental and physical wellbeing and depression. The peer support model will be the basis for this group with trained facilitators and service users coming together to support each other.
Ashford Live Well Centre, 3rd Wednesday of every month – 4.30pm-6pm
---
SOCIAL SUPPORT
---
Ashford Umbrella Centre Sports and Leisure
Table Tennis, Pool, Snooker, Swimming, Walking Groups
Ashford the Parish Rooms, The Churchyard, TN23 1QG
Walking Group – Thursdays 10.30am-11.45am
Pool/Snooker and Table Tennis – Thursdays – 11am-3pm
Tenterden Umbrella Centre
Swimming – Wednesdays 11am-12.30pm
Walking Group – Walking Group Wednesdays 11.30-12.15pm
Pool and Table Tennis – Wednesdays 12.30pm-14pm
West Kent Mind
Ashford Live Well Centre
Creative Minds includes: Visual arts, introduction to crafts, make friends with a book, drama , dance and wellbeing though music.
Wednesdays 10am-12pm
Natural ways to Wellbeing includes: Gardening, wildlife walks, birdwatching, foraging and wildlife photography.
Thursdays 10am-12pm
Living Well includes: Healthy eating, cookery, mood and food, walking/running, sports awareness and relaxation techniques.
Living Well Group 1 – Tuesdays 10am-12pm
Living Well Group 2 – Fridays 10am-12pm
---
EMPLOYMENT SUPPORT
---
Shaw Trust

One to one support
Job Clubs
Personal Development Courses
Employability Courses.
---
HOUSING SUPPORT
---
Centra offer housing related advice in the following areas:
Rent or Mortgage arrears
Repairs
Homelessness
Drugs and Alcohol
Benefits and Debts
Anti -Social Behaviour
Domestic Violence
Social inclusion
Promoting health and well-being
---
VOLUNTEERING
---
We're looking for volunteers to run fun, engaging activities for our clients that improve their wellbeing such as photography groups, arts and craft sessions or gentle exercise groups. We also need volunteers who can work with our clients on a one-to-one basis to help them reach their goals. You can give from two hours per month and we provide full support and training.
To find out more about our volunteer roles, please contact Alison Grainger on 07779 453770 or email Alison.Grainger@shaw-trust.org.uk
To apply now, click here (opens in new window) to complete our online application form.
---
OTHER MENTAL HEALTH SERVICES
---
Free NHS Talking Therapies (IAPTS)

Thinkaction: www.thinkaction.org.uk (opens in new tab or window) or call 0300 012 0012
Insight Healthcare: kent@insighthealthcare.org (opens in new tab or window) or call 0300 555 5555
---
CMHT
Ashford
KMPT www.kmpt.nhs.uk (opens in new tab or window) or call 01233 658100