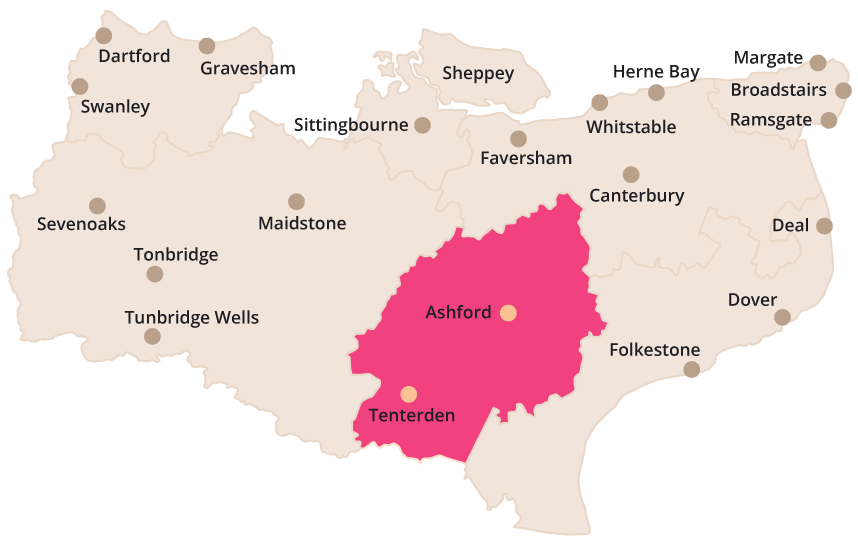 This page contains services relevant to the following postcode areas:
TN23 TN24 TN25 TN26 TN27 TN30
---
SERVICES YOU CAN ACCESS
---
Core Support Programmes
Peer Support Programmes
Social Support
Employment Support
Housing Support
Volunteering
Other Support
---
CORE SUPPORT PROGRAMMES
Structured courses to help you develop your skills and understanding around managing common mental health conditions.
---
Life Skills
West Kent Mind
Does the way you think affect the way you feel?
Perhaps thinking about the future makes you anxious. Or thoughts about the past make you depressed. Or your harsh inner critic makes you feel bad about yourself. But it doesn't have to be like that!
Announcing Life Skills, a new programme to help you challenge unhelpful thinking and behaviour and make positive changes in your life. Life Skills is a programme of six 90-minute psychoeducational classes held at locations in Ashford, Tonbridge, Tunbridge Wells and Sevenoaks.
Wellbeing Course
Choice Support
A two-day course that introduces people to the latest, evidenced-based research into how to improve wellbeing. Based on the Six Ways to Wellbeing, the course explains what, and how, various easy to use techniques can alleviate symptoms of common mental health problems. Participants are encouraged to set goals for themselves and are offered one to one meetings with staff outside of the group to support them to achieve these goals. There will be between four and eight people per group. It is designed for anyone that feels their wellbeing needs improving.
Solution-Focussed Course
Choice Support
A two day course that supports people to think in a more positive and solution-focused way. It encourages people to look at situations in a different way than usual and helps people to use their own previous experience and strengths to find unique solutions to otherwise intractable problems. It is designed for people who find themselves 'stuck' or 'in a rut', unable to see a way forward with their problems. Particularly, but not exclusively, useful for people accessing employment services.
Money Works
West Kent Mind
Managing your money can be challenging at the best of times but is much harder when you are not feeling well. Sometimes it is easier to ignore the bills and concentrate on just getting through the day. It can also be tempting to buy things you can't afford to help yourself feel better. This temporary solution can end up making you feel worse when the debts start to mount and you struggle to afford basic essentials.
Money problems can affect everything in your life. It can cause relationship issues, sleepless nights, anxiety, depression and low self-esteem. These in turn can affect your social life, causing you to become withdrawn, isolated and you can find yourself in a vicious circle with nowhere to turn and no idea where to start.
If this sounds like you, then we are glad you found us – because we are here to help you manage your money better and plan for those times when you are not able to.
Money Works is a new money management programme from Live Well Kent and West Kent Mind for anyone who needs help managing their money. This will be tailored to the individual person's needs for things like debt advice, rent arrears, understanding your bills, bank statements and help with benefit applications/universal credits or any other money related problem.
Bereavement & Loss Counselling
Julie Rogers
I work with clients whom have suffered bereavement and loss. I work as a humanistic counsellor and help clients to face their traumas and help them to find some acceptance and peace around their loss.
I also encourage my clients to Believe in Themselves and develop self awareness around their patterns that they have picked up in life from early childhood. This helps to create change and acceptance in themselves and empowers them in moving forward in their lives to live a healthier lifestyle.
---
PEER SUPPORT PROGRAMMES
Condition related or project Based peer support programmes in which people share their own experiences to help each other.
---
Woodland Wellbeing
The March Wood Project
Sessions run from 10.00am to 12.00pm on a Wednesday.
A 12-week course that works on lessening isolation, building confidence, learning life skills and forming new relationships. This is done by group activities, group discussions, time to reflect, noticing the simple things that the wood has to offer, learn simple meditation and mindfulness skills. They will help empower the attendees to make their own choices, based on what is present rather than their pasts.
Woman's Shed
The March Wood Project
Sessions run from 10.30am to 12.30pm on a Thursday.
The March Wood Women's Shed will focus on crafts made using natural materials found within our woodland as well as using the environment to inspire crafts from other mediums such as painting, sculpture and clay.
Women can learn skills such as whittling using bushcraft knives, axes and billhooks as well as more traditional tools such as woodcarving chisels, planes, and drawknives. It is hoped also that we will use further traditional tools such as pole lathe, shave horse and saw horse to learn even more skills (dependant on funding for equipment).
Items that can be made can include spoons, bowls, bat and bird boxes, planters to name a few.
Adult Forest School
The March Wood Project
Sessions run from 2.30pm to 4.30pm on a Monday.
Woodland Bush Craft project designed around improving confidence, emotional stability and encouraging clients to work as a team learning skills such as natural fire lighting, use of woodland tools, shelter building and archery.
Art Therapy
SpeakUpCIC
This 8-weekly Peer Support Art Group Project is an opportunity for you to start a journal about your journey of recovery to mental wellbeing. You are invited to be part of a group who will provide mutual support in a shared journey of recovery through the experience of making art together. You will be helped by an Art Therapist and a Peer Support Volunteer, both with lived experience of Mental Health Issues.
The focus of the group will be on wellbeing through an introduction to using different art materials. You will be invited to express yourself through the art materials, with help and support from the Art Therapist and Peer Support Volunteer and will give you a record of your journey to take away and treasure if you want to. It will be an opportunity to connect with others and make friends.
Mood Group
A talking group to support positive wellbeing. The group offers a safe space to talk and socialise with others experiencing the same condition.
For more information please see Take Off's website.
Creative Minds
West Kent Mind
We have two Creative Minds groups per week. They are friendly, welcoming groups offering the opportunity to make art and enjoy other's company. The focus of the group changes every six weeks ranging from pottery to painting to printing and beyond!
---
SOCIAL SUPPORT
Access to a range of social support groups to help you with your recovery, social inclusion or personal goals. These include: Book clubs, singing groups, film clubs, cookery groups, arts and crafts.
---
Living Well
West Kent Mind
The focus of this group is anything to do with "Living Well"! In the past we have covered topics such as healthy eating, exercise, mindfulness, confidence and assertiveness. We have just started a series of sessions on playing different games to encourage the group to have fun and build relationships with each other. An important part of our group is social interaction and peer support, and the group enjoy chatting, sharing and supporting each other.
Social Activities
Ashford & Tenterden Umbrella Centre
The Umbrella Centre offers a variety of social activities across Ashford and Tenterden. This includes arts and crafts, singing, walking and other activities.
Beginner's Mind and Body
16 weekly sessions for those who want to try and be a little healthier. Stretching, Flexibility, Toning, Strength, Peaceful poses, Balance, Core Strength, Cardio, Momentum, Dynamic, Full body, Stamina.
For more information please see Take Off's website.
---
EMPLOYMENT SUPPORT
---
Employment support is provided by Shaw Trust and covers the following:
One to one support
Job Clubs
Personal Development Courses
Employability Courses.
---
HOUSING SUPPORT
---
Housing Support is provided by Centra and covers the following:
Rent or Mortgage arrears
Repairs
Homelessness
Drugs and Alcohol
Benefits and Debts
Anti -Social Behaviour
Domestic Violence
Social inclusion
Promoting health and well-being
---
VOLUNTEERING
---
We're looking for volunteers to run fun, engaging activities for our clients that improve their wellbeing such as photography groups, arts and craft sessions or gentle exercise groups. We also need volunteers who can work with our clients on a one-to-one basis to help them reach their goals. You can give from two hours per month and we provide full support and training.
To find out more about our volunteer roles, please either contact Alison Grainger on 07779 453770 or email Alison.grainger@shaw-trust.org.uk
To apply now, click here (opens in new window) to complete our online application form.
---
OTHER MENTAL HEALTH SERVICES
---
Speak Up
http://www.speakup.co.uk (opens in new tab or window) or call 01843 448 384
SpeakUpCIC has a broad range of Peer Support activities and services to offer the many individuals with lived experience of mental ill health in our region. As an organisation our work is supported, informed, developed and delivered by people who have a real understanding of what it is like to live with mental distress. Through different SpeakUpCIC activities people can share their experiences and views of mental health services in a safe and confidential environment, either individually or within a group.
The SpeakUpCIC forum facilitator or Service User Representative can then represent these views and concerns (anonymously, if desired) to the organisations and/or commissioners responsible for planning and providing mental health services. Through the groups, members can therefore be involved in helping develop their local services with a view to ensuring that people are provided with the necessary help they want, when they want it.
SpeakUpCIC Ashford Diary of Activities October 2017 (opens in new tab or window)
---
Free NHS Talking Therapies (IAPT)

Insight Healthcare
www.insighthealthcare.org (opens in new tab or window) or call 0300 555 5555
ThinkAction
www.thinkaction.org.uk (opens in new tab or window) or call 0300 012 0012

IAPTS delivers free psychological services to adults with symptoms of anxiety or depression who have been referred by their GP or other health professionals.
---
Community Mental Health Team (CMHT)

KMPT
www.kmpt.nhs.uk (opens in new tab or window) or call 01233 658100
Location: Eureka Place, Eureka Business Park, Trinity Road, Ashford, Kent, TN25 4BY.
Ashford Community Mental Health team provide support and treatment in the community to adults between the ages of 18-65 who are experiencing a mental illness. We provide assessment of their current need and treatment for service users with moderate to severe mental health needs.
The team includes psychiatrists, community mental health nurses, occupational therapists, psychological services and support staff. We also work in partnership with social care.
Social workers provide assessment under the Care Act 2014 and work with service users who have social care eligibility.
We offer a comprehensive assessment of health and social care needs and signpost service users to the most appropriate service or offer interventions.
---