Shane's Story
I was suffering from severe depression and anxiety and was struggling to just function in everyday life. I had a total loss of confidence and my self-worth was at zero. I was referred Live Well Kent / Shaw Trust by Laurel House (CMHT).
I felt as if there was no way back into work or finding a new job after being made redundant after 36 years working for the same company, I just saw no way forward. I was assigned a Mental Health Employment Advisor, Kirtrina Street, whose help was invaluable.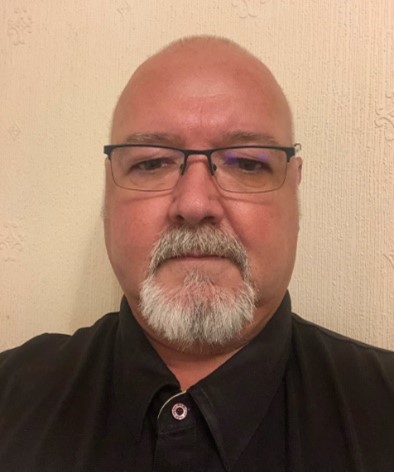 The number one outcome is that I have been offered a new job as a College Lecturer in Mechanical Engineering. I have only been able to achieve this because of the help and support from Kirtrina, Steve Tawney and Hannah Jones whose last-minute help and direction in putting together a PowerPoint presentation that I had no knowledge or experience of but was required to do for my job interview.
The service and support I have received has been amazing, both Kirtrina and Steve worked hard to help me start to see the positives that I had in my skills, abilities, and experience gained from my previous years of employment. I could not see any of this myself as I could only see negatives and had a total self-doubt in every outlook that I had. My confidence is still low, but Kirtrina has managed to lift that from having no confidence at all.
The service and staff have all been amazing and without any of them I would still be at rock bottom. Kirtrina, Steve, Hannah & Reid Kennelly, I cannot thank you all enough for I could not have taken the steps that I made forward without your help. I still have a way to go but now at least I now have a more positive outlook than I had before and that there might be a future worth living after all.
Jake's Story
Jake was referred to Shaw Trust Live Well Kent & Medway by his DWP Work Coach in May 2021. He was struggling with confidence, self-esteem and lack of direction and motivation. He had difficulty interacting with other people and lacked social skills. His Employment Advisor explored the benefits of counselling and volunteering to assist with this. Jake did not have a CV so his Employment Advisor worked with him to create one. Due to his low confidence levels, Jake said he would prefer to work nights in a back of house role at a small establishment so there would be less people to interact with.
Once the CV and cover letter were created, Jake was invited to attend our Employability Skills Workshops which included Confidence and Motivation, Interview Skills and Work Ethics to help build his confidence and knowledge. His Employment Advisor worked with Jake and helped to overcome his fears at a pace that did not overwhelm him. In July 2021, we discussed a job role in the Folkestone area under one of our Sector Based Work Academy Programmes (SWAP), which would prepare Jake for the job role as well as enable him to meet the employer in an informal setting. Jake was nervous about attending but was able to overcome his anxiety and attend. He found the training very informative and was invited to an interview by the employer. This was Jake's first ever interview and we helped prepare Jake by offering mock interview training. When Jake went for the interview, he did amazingly and was offered the job before he left. Jake's confidence was clearly starting to improve, along with his motivation and self-confidence.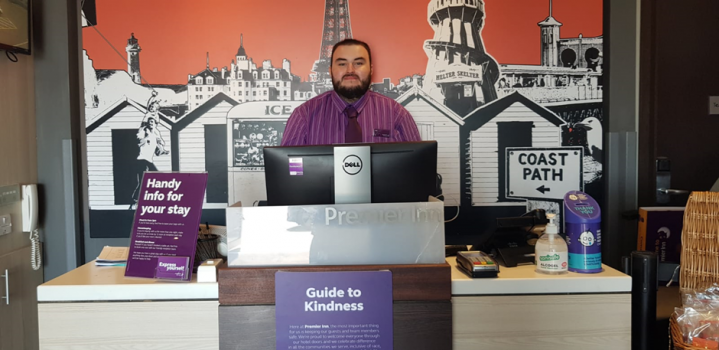 Jake remained in this position for a month before moving on to work in hospitality where he landed a role working as a Multi Skills Assistant. This role covers all areas of the hotel and he is working a variety of shifts. Jake reports that he is interacting well with other staff members and the guests, and is enjoying the variety of tasks. His confidence, communication and wellbeing as a whole has grown massively, and it has been a delight to see him grow as a person. He has said "Whenever you find yourself doubting how far you can go, just remember how far you've come."
Claire's Story
Claire was referred to the Live Well Kent & Medway Employment Service by Shaw Trust in October 2021. She is a lone parent with 2 sons, one of which she cares for. She was struggling with her anxiety and felt that being isolated during the Covid-19 Lockdowns had impacted on her anxiety levels even more. She wanted to work but was only able to commit to under 16 hours. She was reliant on public transport so ideally was looking for a job in her local area of Dover. Claire had
experience in retail but did not feel that she was confident enough to return to this industry as her self-esteem had fallen. As Claire was unsure of alternative roles, we completed a psychometric test to identify other occupations she would be suited to, and she found this really useful. We also updated her CV for her job applications.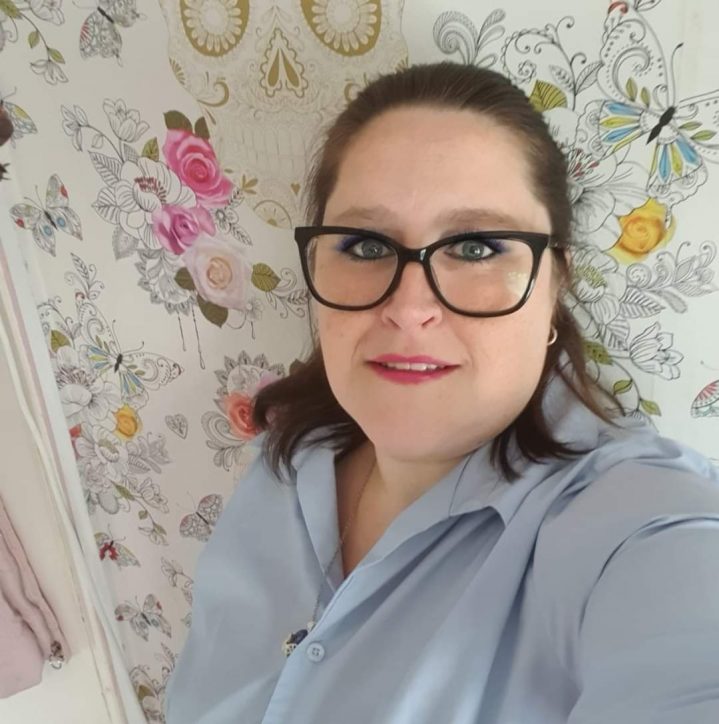 Claire expressed an interest in completing some vocational courses to improve her skills and knowledge but was reluctant to attend classroom-based teaching due to her anxiety. W
e identified a few websites that provided free, online training but she did not have access to a computer/laptop. We completed an application to the Digital Inclusion Team and she was successful in securing a reconditioned laptop. Claire has now registered to a training provider and is due to start her course in the next few weeks.
During our weekly appointments, Claire and I discussed Interview Skill Techniques, covering various elements each week.  She found this useful and was able to put this knowledge into practice when the job interview invitations began to arrive! We spent some time preparing for an actual interview and this helped Claire feel a little more confident with her answers to employer's questions.
I have seen Claire's confidence improve since first meeting her in October 2021. For example, she now felt able to contact employers speculatively and ask about possible vacancies. She started to look outside her local area and apply for a more varied choice of opportunities. Claire accompanied a friend to his place of work and spoke to the Manager about potential vacancies. Following an informal conversation, Claire was offered a job on the spot and started immediately! This is a part time role within walking distance, so she is really happy. She has settled into the role very quickly and feels very comfortable there.
When asked how she had found our service, she said "I have found the service very helpful.  My Advisor, Julie, has always been polite, friendly, and full of good advice.  She was easy to talk to and always there when needed.  My CV was updated, and I attended Interview Skills Training which I found comforting and this prepared me to return to paid employment."
Claire has developed as an individual in the last 6 months, and it has been an absolute delight to have been part of her journey. Myself and the rest of the team wish Claire all the very best in her new job and look forward to her growing further.
Hannah's Story
Hannah self-referred herself to Shaw Trust Employment Service late 2020, having been with the service the year previously. She had secured work but had been laid off due to Covid 19. It was quickly identified that she needed some support finding employment.  Hannah was clearly motivated but lacked confidence and self-esteem.  She felt her ideal job role would be to work with children and had undertaken volu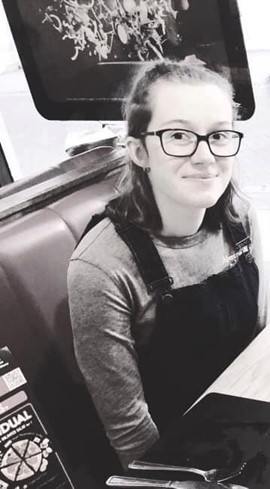 ntary work with a local Youth group to build her experience in this sector.  Hannah was very open to considering all opportunities within her capabilities and applied for all that she felt were suitable.
Hannah attended several workshops including Employability covering a range of topics, Confidence and Motivation and Wellbeing
Wednesdays.  Her confidence began to improve and she was soon volunteering to take minutes which she enjoyed.  She was very proactive in these workshops and it was a joy to see her blossom.  Hannah also registered to online Math's and English courses and concentrated on gaining qualifications in these subjects as they are a requirement for most Childcare roles.
We updated Hannah's c.v. which she began using for her applications and she quickly started to gain job interviews.  Hannah proved very adept at interviews and was soon receiving job offers from employers.  Hannah secured job roles at a café, in an office as an Office Junior and a local pub.   These job roles, unfortunately, were all temporary and Hannah's self-esteem suffered as a result.  She continued to attend various workshops and try to maintain her confidence levels.  She was offered a job start at Wimpey but while waiting for this, Hannah was offered a full-time role as a Nursery Assistant in a local pre-school nursery via the DWP Kick Start scheme which she accepted immediately.
Hannah started work with the nursery in September 2021 and we continued to support her as she began her new venture.   She passed her probation period in December 2021 and is still very happy in her employment. Her confidence has gone from strength to strength and it has been an absolute pleasure in seeing her develop as an individual.  Hannah has never given up and her resilience and determination has paid off!  She is now in a role that she has been working towards since leaving full time education. A huge Well done to Hannah from the entire Swale employment team and we look forward to watching you continue to grow in your new job!"
Jasmine's Story
I was referred to Live Well Kent and Medway because I felt like I need support. I felt like I was getting nowhere and going around in circles. I had a challenging upbringing and I struggle with depression, anxiety and managing my EUPD (Emotionally Unstable Personality Disorder). I experience vicious thoughts and never feel good about myself. Depression is hidden, on the outside I look find but I have not been fine.
I have been accessing employment support with Kirtrina in September, together we created a new CV, researched different job boards and started applying for jobs. Within 4 weeks I had my first and only job interview and I got offered the job! Having someone there that had my back and believes in me is what I needed.
Through the support of my Community Health and Wellbeing Navigator Nyall I am hoping to access therapy soon.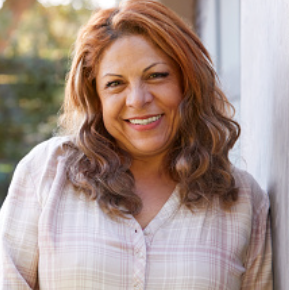 I also have had support from Kemi at Shaw Trust Work and Working Health Programme . Kemi has helped me with financing my work uniform and will be helping to fund my DBS.
I would have never even thought about employment but with your support I feel more positive about starting my new job on Monday. I feel like I can now be a role model and start providing for my family.
I can't put into words how helpful the Live Well Kent and Medway and Shaw Trust team have been. You have really helped to pick me up and made me feel like I'm worth saving, you guys have been a breath of fresh air.
Cameron's Story
Cameron first registered with Live well Kent & Medway in October 2020. He was also a participant on the Shaw Trust Work and Health service but his support manager felt Cameron would also benefit from intensive wellbeing support, so referred him to Live Well Kent. Cameron had a diagnosis of depression and anxiety and was taking medication to manage his mental health.
Cameron disclosed to his advisor that he had worked as a kitchen porter at a big brand holiday camp but the busyness, coupled with the sheer volume of work meant that at times Cameron struggled to manage his anxiety. This had a detrimental impact upon his depression and Cameron felt that he would rather not return to this line of work. Being out of work also had a detrimental impact upon his confidence and Cameron struggled with feelings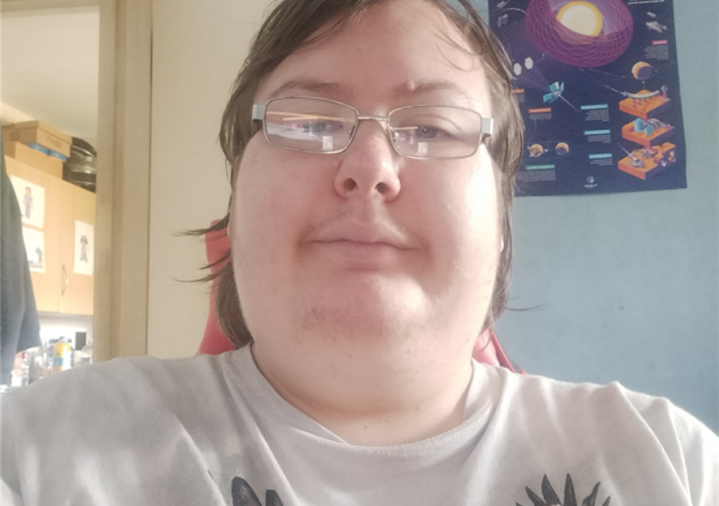 of worthlessness at times.
Due to the coronavirus pandemic, the employment team at Live Well Kent & Medway were working remotely, delivering a range of work-focused and wellbeing workshops from home to support clients. Cameron initially struggled to engage with workshops that were offered to him and resisted attempts to involve him in online group activities. However, as his relationship with his Mental Health Employment Adviser developed, a good rapport was built and Cameron eventually responded to a challenge given by his Adviser. He attended a series of weekly employment workshops held over several weeks, which enjoyed and was an active participant in group discussions in these workshops.
It was whilst attending these workshops that we started notice a change in Cameron's attitude towards job searching and his future prospects. Cameron started opening up to his Adviser about his love of IT and programming and his Adviser supported Cameron to look at the possibility of completing an IT degree at University.
Cameron said "Shaw Trust has helped me a great deal for quite a while, helping me stay confident in myself with the one to one personalised support from my Adviser and the wonderful workshops they host weekly!"
In August 2021 Cameron attended the Eurotunnel Sector-Based Work Academy. Shaw Trust have recently started working in partnership with Carlisle Support Services to deliver a series of workshops and mock interviews with a guaranteed interview at the end. This offers support to those who have barriers to employment which can include mental health challenges and historic drug and alcohol misuse. The programme is introduced on Microsoft Teams by the Shaw Trust employment team. The team support clients through each workshop, which includes meeting the employer, before they attend their guaranteed job interview at the end.
Cameron attended his guaranteed interview and was delighted to be offered a job. Although initially worried about how he would get to site as he doesn't drive, his Adviser went through his travel options with Cameron and he was reassured to know that buses serve the site and he may benefit from the Kent Wheels to Work Travel Scheme. Shaw Trust are also happy to support Cameron with potentially applying for funding for a bike.
Although the medical raised an issue which Cameron is now in the process of resolving, meaning his start date with Eurotunnel has been delayed, Cameron recognises that his confidence has significantly improved and that he is an individual with prospects; whether those prospects lie at Eurotunnel, at University, or even both!
 The Live Well Kent & Medway Employment Team are so proud of Cameron who has worked so hard to turn things around for himself.
Dee's story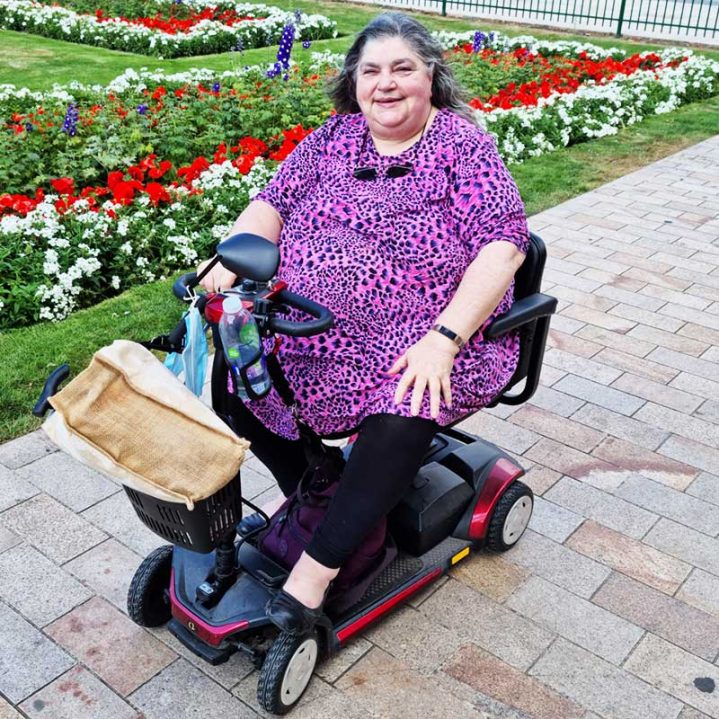 When Dee became unable to work because of health problems, she felt like she had no purpose. Thanks to the Live Well Kent & Medway network, she is now a proud and respected voice within a local charity.
Dee has a spinal issue which causes her chronic pain, back problems, and sleep apnoea. She experiences low energy levels and struggles with stamina. She had to leave her job at an accounting for because of the condition. It worsened to the point that she became unable to walk. She also struggled to apply for financial support.
Dee was put in contact with Live Well Kent & Medway. We arranged for her to be supported by Porchlight – one of the organisations in our network of support services. Porchlight helped Dee attend coffee mornings and get more involved in her local community. She enjoyed what she was doing but wanted more – something productive she could take pride in. "I just wanted to use my brain," she says, "I wanted to feel useful."
Dee's Live Well Kent & Medway keyworker referred her to Porchlight's client involvement team. They invited her to sit on a Porchlight job interview panel. "I was scared and insecure" she says, "I'd lost some of my confidence. But it went well."
Two years on, Dee's taken part in around 20 job interview panels. She also sits on steering groups which give her a voice within the organisation. Dee now takes pride in what she does and feels a sense of responsibility to help find the best person for the job and have her voice heard.
---
James' story
James was referred to the Mental Health Employment Team in July 2021 by Go Train Ltd. He was diagnosed with Autism and struggling with his anxiety and depression levels. James was running an online cake decoration topping business but was keen to gain full time paid employment to build his confidence, knowledge and work experience levels. He also felt that this would help build his social skills as had recently moved and did not know many people in his local area so was feeling quite insular and alone.
We discussed ways to improve his skills and we began by updating his c.v. which he was very happy with. We invited James to attend our Confidence into Work workshop as well as our Employability workshops which cover topics such as interview techniques, resilience in the workplace and cover letters. We also discussed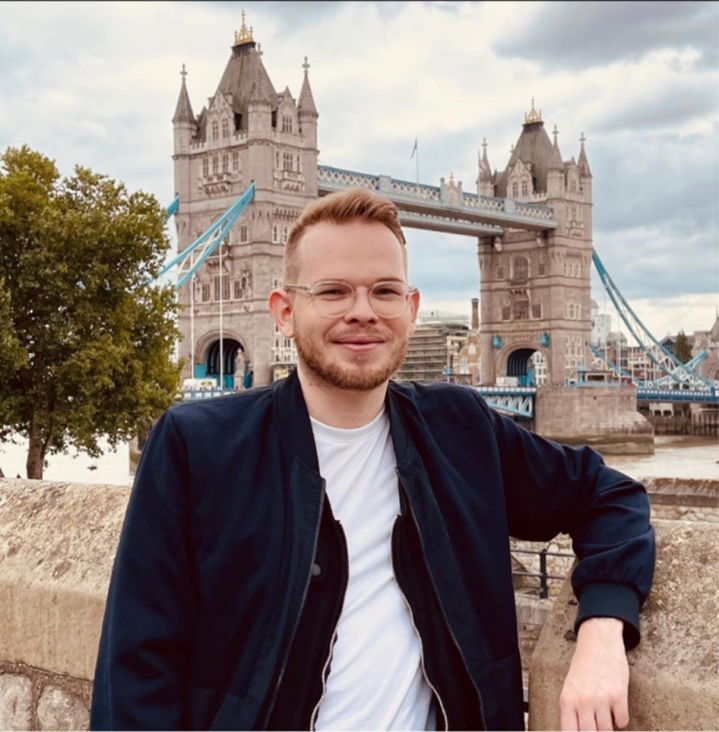 local job opportunities and James expressed an interest in Cook Kitchens. We run 6 weeks of workshops as part of the company's R.A.W. Talent training during which an individual is prepared for the work place by looking at the company values and ethics as well as personal improvements such as confidence and resilience. James also agreed to undertake voluntary work to build his experience and provided support at Caring Hands in Chatham which supports the homeless in the area by providing food, clothing and advice. James thoroughly enjoyed this and was soon receiving positive feedback from the other team members.
James was a little shy at the start of the workshops and was reluctant to switch on his video camera. He pushed through this and soon became comfortable with it. He was very proactive in the training and became more confident in his communication. Even when he was feeling a little overwhelmed, he was more than happy to discuss this and, by working with us, was able to overcome this. He was referred to therapy to assist with his anxiety which is something he had always avoided. Following the six weeks of work related workshops, he then attended 2 weeks of work trials based in the workplace and included face to face group work which he really enjoyed. James was invited to attend a job interview at both company buildings and today, has received a job offer for both roles. He is now in the enviable position of choosing between two job offers. His confidence and resilience has grown immensely since joining us in July and it has been a pleasure to witness this.
James has said: "I thought I would never be employed with having Autism and my battles with anxiety and depression. I am forever grateful for the support that I have received from Live Well Kent & Medway and it has been life changing for me. It has opened my eyes that if you put your mind to something then anything is possible. They helped me to build my confidence and guided me onto the right path to a brighter future with COOK's Raw Talent Training Programme.
Julie has been absolutely incredible by supporting me along every step of this journey even when at times when I had felt overwhelmed and anxious she was always there to put me at ease to keep me on track and help me to believe in myself. I don't think I could have gotten as far as I did without her. Thank you so much to the team at Live Well Kent & Medway."
The Mental Health Employment Team have all been impressed with James' development and commitment and would like to wish him all the very best in his employment journey.
Esther's story
Esther was referred to the Live Well Kent, Shaw Trust employment service in Swale by a local partner organisation, Cook Kitchen. Esther had previously worked in teaching but wanted a career change and to work for a company which helps support the community.
Esther joined the Shaw Trust employment service in June 2021 and we developed an action plan which reflected her goals and support needs. Esther has an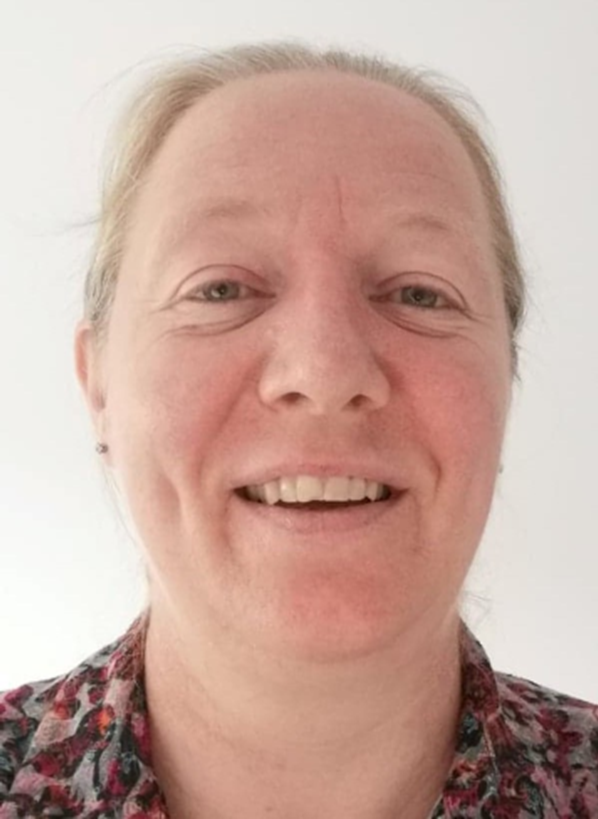 xiety and suffers with panic attacks, which often are triggered by financial worries. Esther told her advisor that she was currently renting a room but had been asked to leave in the coming weeks and had nowhere else to go. Esther's advisor completed a housing referral to the Porchlight housing service and Look Ahead, and signposted her to VitaMinds for counselling support.
Esther expressed an interest in working for Cook Kitchen, so we enrolled her onto our Sector-Based Work Academy (SWAP). The SWAP offers pre-employment training, a work placement or training scheme and a guaranteed job interview on completion.
Esther attended workshops for five weeks remotely on Microsoft Teams, where she fully participated in group exercises and discussions. The workshops covered the Six Ways to Wellbeing, the STAR interview technique (Situation, Task, Action, Result) which helps answering competency based questions and a SWOT (Strengths, Weakness, Opportunities and Threats) exercise to explore SMART actions to overcome barriers and identify opportunities available.
Following the SWAP Esther started a two week training programme called RAW Talent (Ready And Working), with Cook Kitchen. RAW Talent is a programme which supports applicants to build and develop skills in teamwork, resilience and confidence in a group setting; while completing trial work shifts in various departments within the kitchen. At the end of the two weeks, clients are offered a job interview and Cook hosts a celebration event to share the experiences and successes of the group.
Esther enjoyed the training and felt it helped her to start believing in herself again, having been unemployed for some time. The team at Shaw Trust were delighted when it was announced that Esther had been offered full-time employment at Cook Kitchen, working in the Finishing department. Esther's employer provided feedback that she has settled in well to her new job role and works well with the team. She receives ongoing support through the RAW Talent Peer Mentoring scheme and Shaw Trust's bespoke in-work support package.
Esther feels really positive about her future and is relieved to have found appropriate housing, which she described as 'beautiful'. Her property overlooks the seafront and Esther said she can see the sun rise in the mornings, which gives her hope for the future ahead.
Derek's story
Derek registered with Live Well Kent & Medway, Shaw Trust Employment Service in Swale, in May 2021. During his initial registration appointment with his employment advisor, it became clear that Derek was motivated to change his life in more ways than just finding employment.
Derek was transparent with his advisor right from the start and disclosed that he had served time in prison for numerous offences, had been diagnosed with depression and anxiety and was unable to read or write. Derek told his advisor that because of his anxiety he hadn't left his home in over two years, but felt he was now ready to reintegrate back into society, obtain sustainable employment and build a support network among work colleagues.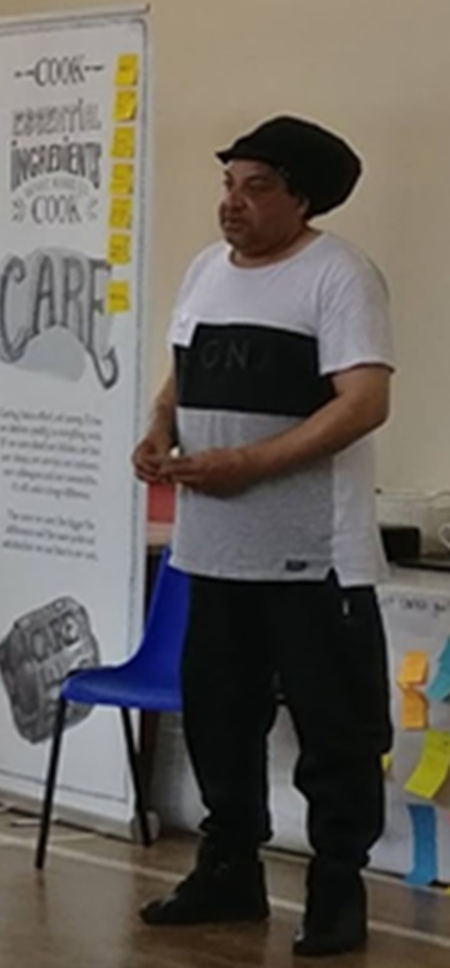 Derek was referred onto the Cook Kitchen RAW Talent programme by his probation worker. The RAW Talent programme, developed by Cook, offers support to people with barriers to securing sustainable employment. The programme works in partnership with Shaw Trust in Swale; who deliver the Department for Work and Pensions, Sector-Based work academy. Participants are guaranteed an interview on commencement of the training. Applicants take part in numerous workshops which focus on teamwork, resilience, confidence and interview practice. Cook referred Derek to Shaw Trust, as they felt that he would benefit from participating in the pre-employment training delivered on Microsoft Teams; before moving on to complete the two week voluntary training at Cook.
Derek and his advisor developed an action plan to explore his support needs. He was referred to the Porchlight Link Worker service (part of Live Well Kent). The service supports clients in finding support within the community for managing their mental health needs. Support varies for each person, but the Link worker service can help someone with literacy needs, benefit queries, housing and community inclusion.
As Derek was unable to read or write, digital inclusion posed as another barrier to what support he could access; as many services were operating remotely following the coronavirus pandemic; this was where the link worker service offered support. The sector-based work academy hosted by Shaw Trust (on Microsoft teams) was something Derek was unable to access by camera, because he could not open the e-mail invitation without support. To ensure an inclusive service, his advisor would text Derek the telephone number to dial into workshops by telephone as an alternative.
Derek attended workshops on Microsoft teams every Monday and received 1-1 telephone appointments with his advisor. He actively participated in all workshops and showed leadership qualities during group exercises. When given the task to create a business name and how to promote the business through a radio advertisement, Derek was first to volunteer his ideas for a mobile Caribbean take away service, which he called Soul Food Reggae. Together with the group, Derek discussed ways in which their business could support the local community by taking left over food to a soup kitchen to feed those who are homeless.
Each week Derek grew within his personal development journey. When tasked to complete a fitness challenge, he shared with the group that for the first time in over two years he left his house and went for a bike ride. Derek even stopped off for a coffee at the end of his journey, before cycling back home. Derek knew that to return to work he needed to engage more within his local community and so would set himself challenges to build on his confidence; such as getting on the train for the first time in years, to attend an appointment with his probation worker.
Upon completion of the training on Microsoft teams, Derek went on to complete the two week RAW Talent voluntary training at Cook and took part in two trial shifts in the kitchen. Derek informed his advisor that during his first shift the manager encouraged him to work at a faster pace. He took this advice on board and received positive feedback for the speed he worked on the second shift.
The day came for Derek's interview at Cook. Derek informed the Swale employment team that his neighbour complimented him for how smart he looked in his suit when he left for the interview. It came as no surprise to the team that Derek was successful and shortlisted for a vacancy working full-time at Cook. The team have really enjoyed supporting Derek on his employment and wellbeing journey and will continue to provide in-work-support.
Derek was asked for feedback for the support he received from Shaw Trust, he said:
"Without you, I would not have taken steps into employment. My life has taken a turn which is 100% for the better. I have worked 7 days in a row, 2 of which has been overtime and I can't wait to see my payslip on Wednesday. I'm working as a porter and keep all the floors and cooking equipment clean. This job is the right job for me and I have found something to fit into, everything is so positive. The job centre has helped me out by supplying a bike and I have seen a flat that is close to work, that I can now afford to move into and hope to do this in 2 weeks' time; when I do this I can start walking to work,"  
Kieran's story
Kieran was referred to the Live Well Kent & Medway, Shaw Trust Swale Employment Service by Cook Kitchen (based in Sittingbourne) as it had been identified that he needed some support in finding employment. Kieran had achieved a qualification in Catering on completion of a two year course and was keen to put this to good use. He had limited work experience (having only completed voluntary work placements previously) and wanted to gain paid employment. Kieran lacked confidence and felt that this was a huge barrier for him and welcomed any support he could be given. In particular, he wanted to practice and improve his interview skills.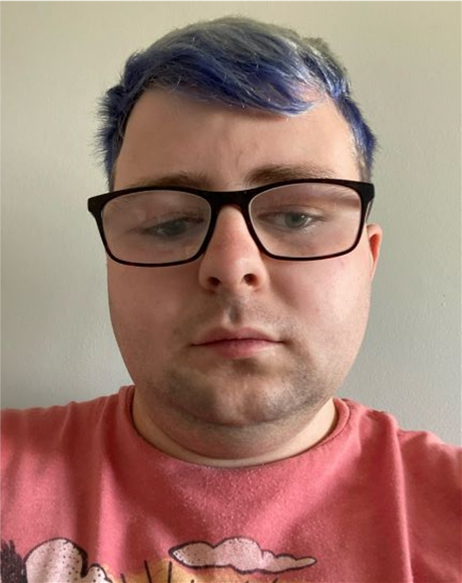 Kieran joined the Cook Kitchen RAW Training programme (a programme which supports people with barriers to employment) in March 2021, however he had missed some training at the point he was referred. He was given an interview but was unsuccessful, as the employer felt he lacked drive and passion. Kieran was disappointed by this and we discussed ways in which to build his self-esteem and motivation. Kieran attended a variety of employability and confidence workshops, including interview skills practice; both on a one-to-one basis and within a group setting on Microsoft teams, which resulted in his confidence levels improving.
Kieran agreed to attend the Cook RAW Training again in May 2021 and attended all six workshops. During this time, he pushed himself out of his comfort zone and spoke publicly on Microsoft Teams to the other participants and joined in all group discussions. He presented one task on behalf of the other group members which was a real test of his confidence but Kieran rose to the challenge and received positive feedback from staff and the other participants. The workshops covered the STAR interview technique (a technique used for answering competency-based interview questions) and the SWOT method (a document to identify strengths, weaknesses, opportunities and threats to obtaining goals and sustaining paid employment). When Kieran was asked for feedback after taking part in the workshops he said:
"I found the session great. I revisited the STAR technique and refreshed my knowledge and thought more about my strengths and weaknesses using the SWOT method"
Kieran also completed mock interviews in preparation for the interview at the end of the RAW Talent training and showed improvement in these. He took on board the feedback he received and worked on improving any areas of development.
It was suggested that Kieran undertook voluntary work to show his commitment to finding employment and to build his fitness and stamina (as the job role at Cook is very physical). Kieran agreed and started volunteering at Caring Hands (based in Chatham). Caring Hands are a charity who work in the community to support people who are vulnerable and are or at risk of becoming homelessness. While volunteering Kieran showed initiative, team work and a genuine willingness to help others. His confidence continued to grow and this was evident in the six trial days at Cook where all feedback was very positive. Kieran completed another job interview and performed much better. He said:
 "It went really well and my interview went really well. I think that said, I have changed since last time and my confidence is a lot better than last time."  
As a result, Kieran has now secured full time paid employment with COOK and has just completed his induction with them. A huge congratulations to Kieran from the Swale employment team and we look forward to supporting you in work and watching you continue to grow in your new job!
Vicky's story
Vicky was initially open to support from the Live Well Kent, Shaw Trust employment team in December 2017, having been referred by her Job Centre Work Coach. She was struggling to manage her anxiety and mental health and was unsure of how she could progress into paid employment. She had attended various workshops including: Interview Skills, Confidence and Motivation and Building Resilience. Slowly her confidence improved and she attended an interview (arranged by the Swale employment team) at Sittingbourne Poundstretcher, in which she was successful. She started work as a Sales Advisor early 2018 and received face-to-face, in-work-support by the team to ensure all was well in her new role.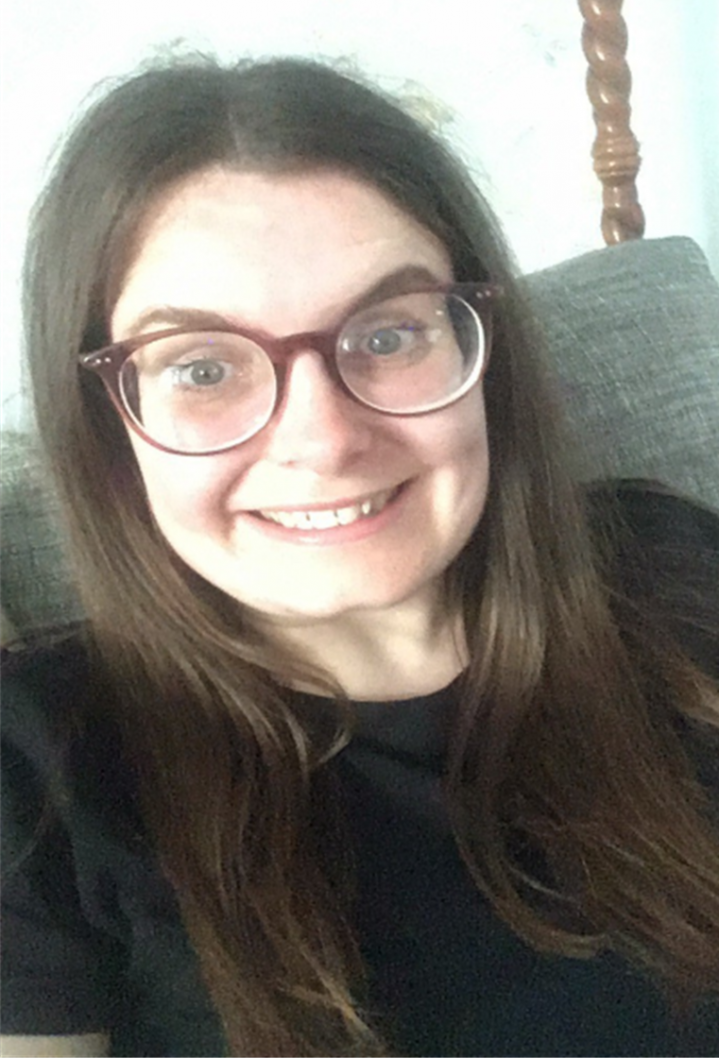 Vicky blossomed within her new role and remained with the company for three years. All was well until March 2021, when the management announced that they were closing the store and she was put under notice of redundancy.  Vicky felt her anxiety start to resurface and immediately contacted Swale employment team to ask for help; as she felt we had been so pivotal in building her confidence on her employment journey previously.
Vicky re-registered with the Swale team at the end of March 2021 and her mental health needs were explored at this point. She was feeling very vulnerable at the sudden job loss and was worried that her mental health would decline and her anxiety would overwhelm her. Vicky's advisor discussed a variety of support options and completed a referral to VitaMinds, so that her anxiety could be supported further. Vicky found this additional support very helpful and was impressed by the speed in which this was set up. She was contacted within a few days of her referral for an assessment and had her first one-to-one meeting soon after. Together with her employment advisor, she explored her strengths and transferrable skills in some depth, to build on her self-belief and formulate an action plan to move forward. Vicky received help to update her existing CV to include her recent employment, transferable skills and experience. Her current CV was tailored to the Retail sector however, Vicky had expressed a keen interest in working in administration, so a second CV was created to reflect this goal.
Vicky began using her new CV for job applications and very quickly was shortlisted for interviews, she was very excited and felt much more positive about finding work again. The team completed mock interview training and to support her in preparing for interviews. Vicky used the S.T.A.R. method to structure her responses to answer competency-based Interview questions and researched the company's core values and mission statements as well as breaking down the job description and matching her skills to this. This preparation enabled Vicky to build her self-confidence and really begin to be believe in her own abilities. Vicky was successful in securing a full-time administration role in the local area and is settling in well to her new role.  She feels that the support and advice provided by the Swale mental health employment team has enabled her to achieve this.
When asked to comment on the support Vicky received from the service, Vicky said: "I have found the help and support from the team amazing, and you have all helped rebuild my confidence and focus on my positive traits. Julie has been really helpful with my confidence and self-belief, and I don't think I would have even applied for my new role without her support."
Brandon's story
Brandon first registered with Live well Kent in July 2020. He had previously been a participant on the Shaw Trust Work and Health Program. His support manager felt Brandon would benefit from intensive wellbeing support; so referred him to Live Well Kent. Brandon had been diagnosed with depression and anxiety and was taking medication to manage his mental health.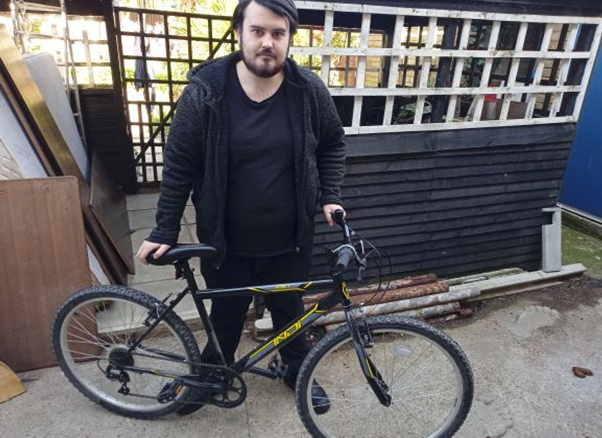 Brandon disclosed to his advisor that he had worked in a warehouse in the past but had a bad experience and struggled at times to manage his anxiety, so he left. This had a detrimental impact on Brandon's attitude towards finding suitable employment and he felt his confidence, to return to employment, had been greatly impaired. Due to the coronavirus pandemic, the employment team at Live Well Kent were working remotely, delivering a range of work-focused and wellbeing workshops from home to support clients. Brandon actively engaged in many workshops including: Confidence Building, Mindfulness, Employability Skills and Wellbeing Wednesday – (a multi-agency drop–in) on Microsoft Teams. Brandon identified that he needed to improve his fitness, so he also engaged in weekly walks on the Mindful Mile Experience virtual workshop.
In September 2020 Brandon attended the Cook Kitchen RAW Talent, Sector-Based Work Academy. Shaw Trust work in partnership with Cook to deliver this programme. RAW Talent offers support to those who have barriers to employment which can include; mental health challenges, historic drug and alcohol misuse, those with criminal convictions or who have been homeless in the past. The programme is introduced on Microsoft Teams by the Shaw Trust employment team. The team help clients through the first stages of their development, before they move on to complete a two week training programme at Cook; with a guaranteed job interview at the end.
Brandon was introduced to Swale Your Way; who are part of the Live Well Kent network. Swale Your Way offer support within the community to reduce social isolation. Brandon attended a Creative Writing workshop and wrote a beautiful piece to describe his feelings after the loss of his brother:
Ten feet down. My place of solace. My garden of tranquillity. My Staff dog playing with his toy. The birds feeding in the trees, singing in unison, as they enjoy their seed. I walk along the gazebo when I look up to see the wooden plaque of my brother's memoriam. Conflicting emotions overwhelm me, pride and sadness. Pride for the work I did in making the garden worthy of my brother's memory. Sadness knowing my brother is no longer with us. As I continue to walk along the pavement passing the plants and the bridge. I approach the end, crossing the stream to the bench at the top. As I sit down I close my eyes and forget about the issues the world and I have. I escape into my own world gliding to the dulcet tones of Mozart, Handel and Beethoven. A place of knowledge, A place of peace, A place of paradise.
Brandon later completed the 2 week training with Cook in September 2020, however it was recognised that Brandon wasn't quite ready, as he struggled to complete the work trial shifts and became unwell. This, however, did not put Brandon off. He revisited his action plan with his advisor and engaged with appropriate support before recommencing the next intake for RAW Talent in November 2020. Brandon was able to complete his trial shifts the second time round, with support;  although, it was felt he still may not be quite ready. Later it was agreed for Brandon to partake in further training at another kitchen site, where Brandon was offered full-time employment in the packing department starting in April 2021. Brandon was delighted with the job offer, although had concerns regarding the distance to travel to work. Brandon's advisor relayed his concerns to his Sittingbourne job centre work coach, who agreed to reimburse costs for a bicycle, thus removing this becoming a barrier to employment.
Shaw Trust continue to work with Brandon to offer In-Work-Support and although Brandon was understandably nervous at the start,  he has settled in really well to what he described as; his 'dream job'.
Joan's story
Proving that the office is not only a workplace, but an opportunity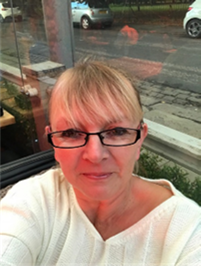 Joan was referred to Live Well Kent Employment Service in Dover by her Counsellor at the Dover Counselling Centre in August 2020. Joan, along with a couple of hundred other employees, was in the process of being made redundant by her employer, and was struggling to cope with this life change as well as struggling with being furloughed for nearly a year and life in lockdown. Joan was used to leading a very active lifestyle and loss of her active freedoms had impacted negatively on Joan's mental health.
We completed a vocational profile with Joan to identify her skills and experience and quickly established that Joan had numerous transferable skills that employers would find attractive. Joan was open to considering any type of role but was especially interested in either an admin role offering plenty of variety or an on board sea faring role. Joan was ex forces and was working in a people facing role so she had a lot of transferable skills coupled with amazing people skills.
Joan was invited to attend employability workshops and was offered support with her CV, identifying suitable roles, completing applications, and preparing for interviews. Joan subsequently attended an interview with a company that worked with Forces personnel and was successful in securing the role. Before securing the role Joan felt very anxious and said that she felt as though she was living life constantly on the edge. She was worried that she wouldn't be able to secure another role, especially during a pandemic
Since starting work, Joan has rapidly become a trusted member of her team and has been relied on to complete additional work in the absence of others. She has also gained the confidence to open negotiations into raising her salary significantly. Although she feels that this role is a stepping stone and is looking for a role that she feels will offer her a greater challenge Joan said
"I am so happy with the support I have received. Sally has been so supportive and I've really appreciated the fact she has taken the time to regularly email me jobs she thinks I can do. She also helped me produce a CV I am proud to send employers as it really showcases my skills."
The Shaw Trust Employment team are really proud of Joan and all she has achieved.
Emily's story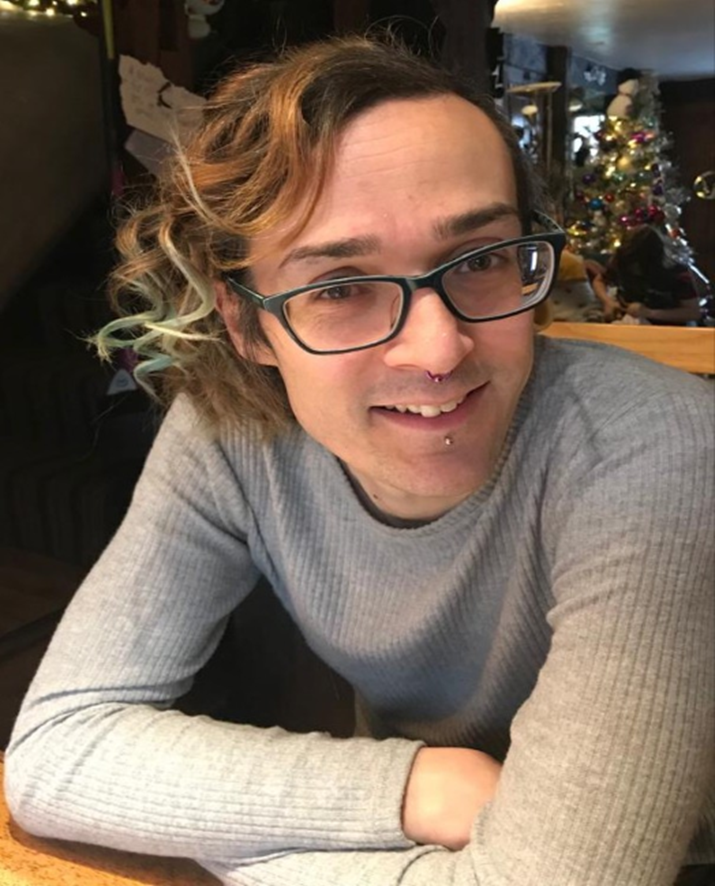 Emily first registered with Live Well Kent in January 2020; onto the Porchlight Community Link Worker service. Emily had recently become unemployed – due to her poor mental health. Emily had been finding it difficult to manage her depression and anxiety at work, which over the last 18 months had worsened. Since becoming unemployed Emily felt disconnected from the community, isolated and feared her future ahead was bleak.
Emily's Link worker offered advice around claiming out-of-work benefits and invited Emily to attend Sittingbourne Jobcentre, to attend the De-Frazzle Café. The Café offers a space for clients to meet with local mental health provision all under one roof. Clients have the opportunity to ask questions and be informed of the support they can access in an informal setting. Shaw Trust Employment team were present on the day Emily attended and spoke with Emily about the service. Emily was keen to engage and expressed that she felt her previous job had impacted greatly on her wellbeing and would like support to find alternative employment in a job more suitable to her needs.
Emily attended a registration appointment at Shaw Trust Swale office early March 2020 and together, with her advisor discussed the barriers she had to finding work and her wellbeing and support needs. Emily disclosed to her advisor that although born male, she identified as female and had faced some difficulties from family in accepting and supporting her for who she is.
Emily had been attending an LGBTQ+ support group and was awaiting referral to a gender identity clinic in London, however these were put on hold due to the Coronavirus pandemic. Understanding the difficulties this caused to Emily's wellbeing the Shaw Trust team wanted to help. The team developed a range of wellbeing and employability workshops which Emily attended. Every Thursday Emily took part in the 'Mindful Mile Experience' – which encouraged clients to take part in a virtual fitness workshop. Emily choose to cycle; while focusing on one of the 6 ways to wellbeing each week. Emily also attended an LGBTQ+ workshop which was delivered by a volunteer of the Trust. In June 2020 Emily informed her advisor that she had been offered employment as an Upholsterer.
Emily enjoyed being back at work and the Shaw Trust employment team continued to provide in-work– support for a further 6 months; including signposting Emily for support from the charity MindOut (who offer online support for people from the LGBTQ+ community who may also need support managing their wellbeing and mental health). Emily successfully sustained her employment and is still currently working as a self-employed Upholsterer. Emily is in regular contact with her GP; who is trying to FastTrack Emily for support from the gender identity clinic. Emily informed her advisor she is:
"Happy to be working again, as each month I have money left over in my account which means I can save up for facial surgery"
Emily has been an absolute delight to work with and come such as long way since she was referred to the service and is a real inspiration to others. The whole team at Live Well Kent would like to wish her all the very best for the future ahead.
Debbie's story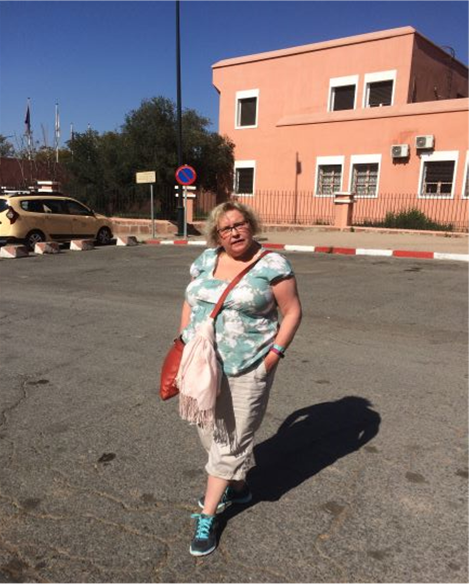 Debbie was referred to Live Well Kent Employment Service in Swale by her Porchlight Community Inclusion worker in July 2020 . She had a dream of wanting to find full-time employment but felt her low confidence, self esteem and poor mental health was holding her back. Debbie also had worries about working, due to her dyslexia because she finds reading and writing difficult.
We completed a vocational profile to identify her skills and experience and during this session she said one of the things that she would love to do is to become a support worker.
Debbie went on to complete a sector based work academy in health and social care on Microsoft teams each week and received support around building confidence, preparing for job interviews. With support she was able to complete an application for a support worker vacancy supporting adults with learning disabilities in the community.
Debbie later attended an interview, which was successful and offered employment in her dream job. Debbie told her porchlight inclusion worker:
"Natasha is an absolute star, she does a brilliant job" ,"Shaw Trust are lovely" and "I would love to volunteer for them and give something back".
Before starting work, Debbie was concerned about her dyslexia creating difficulties in completing paperwork,. Her advisor helped her to apply for Access to Work; a government funded initiative to support people with disabilities at work. Debbie now receives on-going in-work support and is really enjoying working full –time.
The Shaw Trust Employment team are really proud of what Debbie has achieved by overcoming the barriers she felt were preventing her from reaching her full potential.
Ivan's story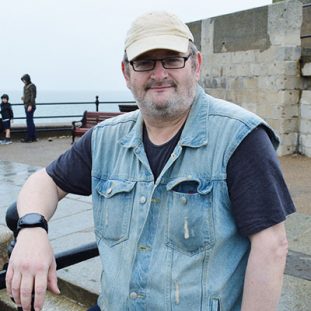 Ivan can't believe how much his mental health has improved in a year thanks to the Live Well Kent network – especially SpeakUpCIC.
He's gone from somebody who was depressed and reclusive, to a person who organises community initiatives and helps others.
"I cannot believe how I've turned my life around. A year ago, if someone had told me I'd be doing the things I am now, I would have never believed them."
When Live Well Kent first started working with Ivan, he had depression and was cut off from family and friends. He'd been struggling with poor mental health since losing his wife a few years previously.
Initially, Ivan was supported by another Live Well Kent service. When they learned that Ivan had a passion for music, they referred him to SpeakUpCIC. It runs a music appreciation group for people who feel cut off from others, and it was arranged that Ivan would attend a meeting.
People in this situation can find it hard to engage in new activities and meet new people, so Ivan was assigned a SpeakUpCIC 'befriending buddy'. This helped him feel more at ease and open up to the group.
Ivan soon began attending more sessions and his confidence grew. He now takes part in various SpeakUpCIC social groups and has even started an online photography club. He's also using his experiences to support others as a SpeakUpCIC 'peer mentor', and is now training to become a mental health engagement worker.
---
Andrew's story
Finding a job isn't necessarily straight forward when you struggle with your mental health. It's why we support people like Andrew, who has struggled with mental health for much of his adult life. In the past, he has been experienced bipolar disorder and schizophrenia.
When we first met Andrew, he was unemployed but keen to work again. When you've been out of work for a long time it can feel intimidating getting back into employment, especially if you feel that your mental health is holding you back.
Porchlight helped Andrew apply for a permitted work certificate. The certificate allows people with a disability, illness or health condition to do part-time work without their benefits being affected.
With it, he was able to find a part-time job with the NHS, supporting people who similar experiences of mental ill health. He received help negotiating working hours that did not feel too overwhelming and because the transition to work is not always straight forward, he continued to receive mental health employment support when the role sarted.
"My support worker was giving me a lot of encouragement and moral support. They really wanted me to succeed."
After a while, Andrew was ready to take on a bigger role. We helped him find a new job with more hours at mental health recovery charity Hestia. He's also been part of several community mental health awareness campaigns and has written a book that he hopes will aid people's recovery. He hopes to eventually return to full-time work, and we will continue to supporting him to do so.
---
Ricky's story
"My life had been an ongoing cycle of drug addiction and battles with my mental health but when Shaw Trust introduced me to Cook Kitchen's RAW Talent Programme my life changed for the better"
Growing up Ricky didn't have a stable childhood and was in foster care from a young age. The lack of stability in his life meant he struggled throughout school. He later discovered he has dyslexia; which left undiagnosed, resulted in poor academic achievements. Ricky began using drugs recreationally but as time went on his dependency grew and he developed underlining problems with anger. Over the last few years Ricky became a carer to his mother who grew very unwell and sadly passed away. This was the catalyst of change for Ricky and he knew he needed to break the cycle of drug use because he feared his life was spiralling out of control. Ricky took the decision to leave his life in London behind and move to Swale for a new start.
Following the move, Ricky soon found himself isolated which largely impacted on his mental health and although he wanted a fresh start; he recognised he needed some support. It was at this stage that his jobcentre work coach Becky referred him to Live Well Kent Employment Service for support to manage his health and wellbeing and to regain structure in his life.
Upon registration, Ricky completed an action plan to identify barriers and agree achievable goals. Shaw Trust suggested the 5 week Vocational Pipeline Training for Cook Kitchen's RAW Talent Programme, Ricky excited to hear of the opportunity, wasted no time in booking his place.
The RAW Talent Programme which stands for Ready and Working, is a programme developed to help those with barriers such as; criminal convictions, mental health challenges and homelessness back into work. Candidates are offered vocational training (both at Shaw Trust and with Cook), peer mentoring and in-work-support. The ethos of the programme largely reflects Maslow's Hierarchy of Needs that with the right support / needs met there is a stronger probability to sustaining long-term employment or reaching self-actualisation.
In January 2020 Ricky secured a place on the RAW Talent Programme which he described as "full on but really rewarding". Ricky demonstrated he held the company values or essential ingredients (as Cook would say) and was offered a full-time position on the production line. Shaw Trust have supported Ricky every step in his journey including, providing details of a moped scheme so he could get to work on time; although his advisor did need to decline Ricky's offer to take a spin on his on the back of his bike. Things are going really well for Ricky now, he is enjoying his job and being part of a team and we believe he will continue to make the right choices and progress within his career.
---
Lorraine's story
Lorraine used to need support with her mental health… now she is the one supporting other people.
When Lorraine felt unable to leave her flat, her mental health support worker suggested she try a weekly cookery group run by Swale Your Way.
"I was nervous to go, but everyone was welcoming and it felt good to be a part of something. I began feeling like part of the community again."
As Lorraine's confidence grew she joined another Swale Your Way board game group.
Things were going well, but when Lorraine suffered a health setback she once again felt unable to leave her flat.  This time, Porchlight – which runs a service for people who feel isolated and cut off from others – was able to help.
"They sent a support worker Kim, who met with me at my flat. At first she drove me to a nearby café and back, but we began taking bigger and bigger steps as the weeks went on."
With Kim's help, Lorraine was eventually able to begin doing things by herself again and rejoined Swale Your Way groups. These days, she runs a Swale Your Way mental health group that supports people in similar situations and is also studying qualifications related to mental health support.
"I've come a long way. If anyone is in a similar situation to mine, I would like to tell them there is light at the end of the tunnel."
---
Megan's story
When someone has experienced trauma it can leave them feeling isolated and unable to live a full life. This is what happened to Megan (not her real name) who experienced homelessness and domestic abuse committed by family members. Unfortunately, overcoming these issues was not the end of her problems.
Because of the domestic violence I'd experienced, I became reliant on my current partner and too scared to leave the house unless he was there but I wanted to get my life back and do everyday things.
I began receiving support from Porchlight's Community Inclusion Service which works with people who feel isolated or cut off from others.
My support worker Holly would meet me in town for a coffee once a week. The first time my partner accompanied me, but after that it was just me and Holly. Every time we met it would be a little further away, and that made me realise I can do things without help.
That was six months ago. Now, I have regained control of my life, regularly taking solo trips to the gym, swimming pool and more. It's a big, big step for me to be doing these things. My mental strength is incredible now. I am able to walk down the high street with my head held high.
---
Alan's story
Alan's life used to be very different. He had a job and a home and was independent. All of this changed overnight when he was run over by a car. After the incident he had to sell his home due to his inability to care for himself and had to live with his elderly mother who has been caring for him ever since. He now suffers a brain injury, needs to use cochlear implants, cannot walk without a substantial frame and short-term memory loss. Many of his adult years were spent in isolation because of his physical health.
The support from Live Well Kent has been brilliant because I've been able to get out of the house and go to places I haven't been before. I am doing things instead of looking at the same 4 walls all day. I feel a lot happier.
It feels more like things are getting back to the way things were before.
I have felt totally isolated since the accident, 15 years ago. I didn't know where to turn or what to do.
Live Well Kent has given me the confidence to go to community groups and meet other people. I regularly go to a local arts and crafts group now, and at the groups I can sit for two hours or more talking to people and painting.
I found it hard to meet other people before. I am deaf because of the accident and I was always anxious about other people thinking I was ignoring them if I couldn't hear them. I like to think that I'm a useful person but there are difficulties that come about from being deaf.
Kim explained to her team and to people within the activity groups that it's not rude to bang on the table to get my attention if I can't hear them. She told them they need to look at me and speak clearly when they talk to me so I can lip read and work out what they are saying.
We are social animals who have evolved from apes and being able to talk to people is important to me. I initiate conversations and ask for people's help now. I wouldn't have done that before.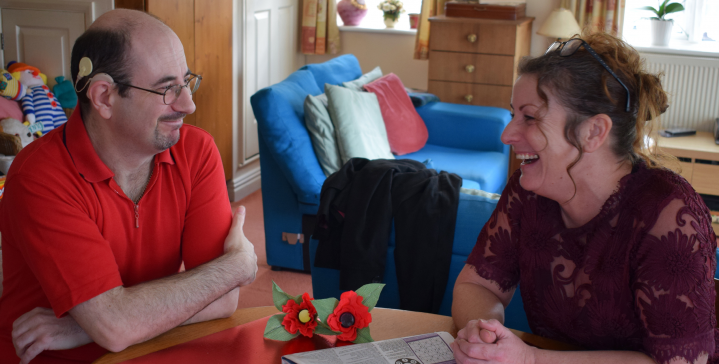 Before working with the Community Inclusion Service, I did not trust people. Now I trust people easier and quicker. I think it's because the Swale Your Way groups are always happy and it is contagious.
The team also found me Deaf Advocate from Kent Advocacy. I know that although I no longer have the Community Inclusion Service team to assist me, I still have support to help me with any issues that may arise.
---
Simone's story
In my previous life, when I was Simon, I was dreadfully unhappy. I knew I had two options: continue living miserably being the person I'm not, or embrace the person I am. I chose the second.
I always knew I was a woman, but I was in denial for many years. I also went through an extremely traumatic experience as a child. Because of this I have always suffered with my mental health.
I was worried about telling everyone the truth. Two years ago everything became too much and I had a breakdown. That's when I thought to myself enough is enough. I told myself real friends will support me and everyone else I'll have to leave behind. Luckily a lot of them did stand by me.
After I told everyone, my friends said I literally changed overnight from the person I was to who I am now. When I was Simon I wouldn't talk to anyone or look them in the eyes but now I feel more comfortable talking to other people.
My life felt like little pieces of a jigsaw puzzle thrown around the room. When I announced who I was it was like all the pieces of the jigsaw came together and made a complete picture.
Until recently I had regular therapy sessions, but I was discharged before I felt ready. After that I had no one I could speak to if things went downhill. Coping on your own with long-term mental illness is difficult and I ended up staying at home a lot on my own. Then I would dwell on things that aren't healthy.
SpeakUp CIC LGBT group has helped so much. You always expect the worse trying new things and I was scared about going to the group. When I did go, the first thing they asked me was "how would you like to be known?". That was so respectful and straight away I felt comfortable and like the people here understood me.
There is no judgement and people who have had similar experiences help, by sharing their coping mechanisms.
There are more good days than bad now and I can see my confidence growing. At some point I'd like to return to work and this group is helping me get to that point.
I have been getting back into wood work and art and have made furniture for the group. I also spoke recently with SpeakUp CIC at a mental health conference in front of 100 mental health professionals. Being able to stand up and share my story made me feel so empowered as a transgender woman. I also joined the group on a women's rights parade on International Women's Day with a banner we all worked hard to create together.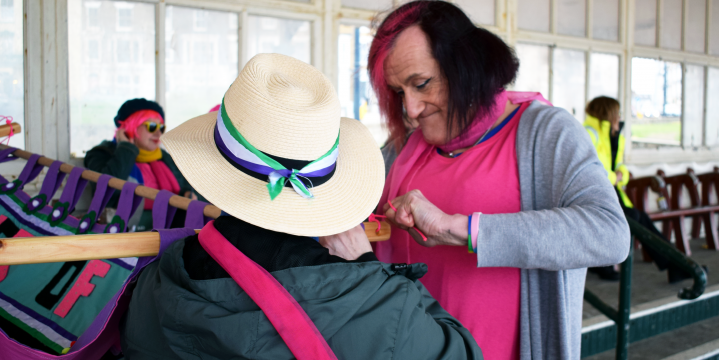 I still have difficulties, but my only regret is not speaking up about being a transgender woman sooner.
I can see how far I've come thanks to Speak Up CIC. Never underestimate how much of a difference these groups make.
---
Sandra's Story
When my son was 5 years old, he was diagnosed with autism. I found it hard to cope with that as well as the other stressful things that were happening with my family.
At that time, I had regular panic attacks and constantly felt anxious. I would sit at the computer all day, so I didn't have to go out and leave the house. I wasn't strong and I didn't have a voice. I was so timid.
I used to self-harm a lot. If things didn't go right, I'd cut myself. I also lived through domestic violence. I was on a bad path.
It got to a point where the anxiety and fear completely took hold of my life. It was a downward spiral and I could feel myself getting worse. If I had carried on, I don't know what would have happened.
I wanted to be there for my son and that pushed me to change because I knew I needed to change to be a better mum. I was tired of letting everything take control of my life. That's when I got in touch with Live Well Kent.
When it came to the day of my appointment, I was terrified of meeting up with my support worker, but I pushed myself to do it. I sat there with headphones in because I was so anxious and self-conscious.
I've been to different organisations for help in the past, but once the support finished, I'd shut myself away again.
Working with Live Well Kent was different though. For the first time I felt like someone really cared. If my support worker said she'd do something, she would do it. I knew I could contact her any time, and I knew that if it was out of her working hours, she'd reply when she was at work again. That helped me to build a lot of trust.
I've come so far from the person I used to be. I was a frail timid thing, now I have a voice and I want to give back.
I am working on getting a food hygiene certificate so I can volunteer with homeless people. I'm also doing a first aid course so I can volunteer with local organisations. I started a book folding group too, because I want to help people who are like I used to be. I've been selling some of these to raise money for Porchlight.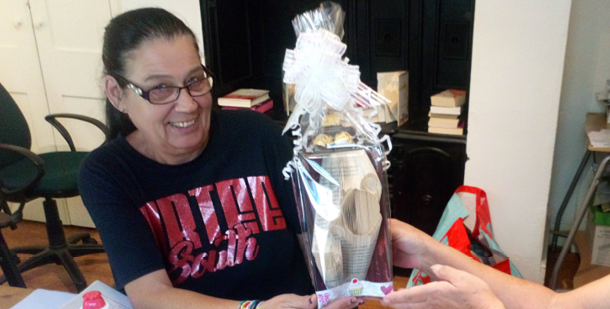 I even got to sit on some interview panels for Porchlight, and that really boosted my confidence. If you'd have said to me a year ago that I would be doing all of this, I wouldn't have believed it. The person I am today is completely different from the person I was last year, and for that I can't thank Porchlight and Live Well Kent enough.

My son knows now that I will protect him. Me and my son are moving forward to a better life and leaving everything else behind. We're in a good place now.  
---
Christian's story
Christian, who has bipolar disorder and has battled with depression, was able to turn his life around thanks to Live Well Kent. With the right support, he found a new sense of purpose, gaining qualifications and getting work with the mental health charity (and Live Well Kent partner) Mind.
"I learned to believe in myself again, gain skills and take a different direction," he said. "Live Well Kent and its health providers have taught me that if I accept who I am and recognise my skills and abilities there is no end to what I can achieve."
Christian has also become a volunteer mentor to others using the service. "I'm working with one of their clients who has been through a rough time with depression, helping him to gain skills and get into employment," he explained.
---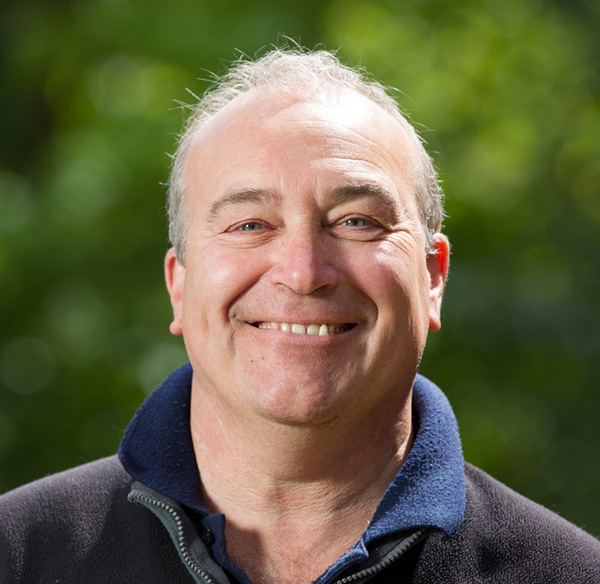 Gary
Live Well Kent client
Volunteer gardener and mentor
When I first arrived at Live Well Kent I took one step forward and I thought: Do I want to step in or do I run away? But I knew I needed help so I came in.
I found out about the service when I was in a recovery group for my mental health. I was experiencing anxiety, had low self-esteem and psychosis. I used to feel I was being watched all the time. I didn't like to be around other people and struggled in groups.
At Live Well Kent we talked about what they could do to assist me. One option was starting a gardening team and I thought voluntary work would be good for me. The garden was huge, overgrown and unkempt. I saw the potential of what we had here and for the first time I had a glimmer of hope. I knew it would it give me something to focus on, it would take away the bad thoughts I was having at the time.
Within weeks I was working on the project. Together with others I cleared the land, exposed plants and bushes, looking to see what we could salvage.
And eventually we started to see some progress. It was great for my self-esteem. By coming to the centre each day I feel a sense of achievement. It made me feel that I needed to come more and more and that there was hope.
I now have got the confidence to be around people. I can do more, I can go to public spaces. I don't experience so much anxiety.
Over the months, I've moved from being a mental health client to becoming a volunteer helping others in their recovery. I now mentor a group of clients who work in the garden. It gives me a great sense of achievement. And together we can see that what we're doing is helping us get better.
I now want to progress and continue my good work here.
---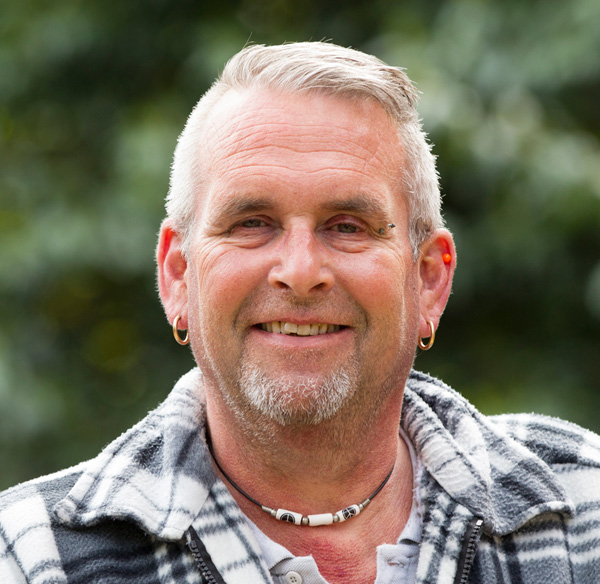 Chris
Live Well Kent client
Volunteer gardener and mentor
I thought my life had ended. I was suffering really badly with depression, anxiety and tried to commit suicide. I couldn't bring myself to talk to people. I used to stay indoors most days. I felt my life was meaningless.
Eight months ago I came to the Live Well Kent centre from another service. I knew I needed help.
I learnt about the gardening project and I thought I'd give it a go. At the start I didn't feel it was doing anything. Regardless of what I did, I still thought I was worthless. I felt I wasn't going anywhere.
And then it all changed. The work in the garden gave me a purpose. I had a reason to get up in the morning and I was feeling so much better. I had something to occupy me.
I still have a way to go but I feel 10 times better now. I enjoy being outdoors, being physically active. I have taken on more responsibility and I am a volunteer mentor for a few clients on our books. It's really good to see the change in others – they're silent when they first arrive and with time they open up, they're talking more. And it's nice to know I have had a little bit towards making them like that.
It's good to have a place where you make friends. Coming here is like seeing my family. I know I won't be judged. We've got a little community here. People from other classes come out and talk to us and enjoy the garden.
In the past I had singled myself out. I thought I was the only one going through problems. I now know there are others, that I'm not alone.
It can be hard to open up and you think it's a sign of weakness to look for help. But sometimes you have to lean in and swallow your pride because there's lots of help available, you just need to say something. And admitting you need help makes you stronger.
I've been given a lifeline and I want to do the same for others.