Lorraine's story
Lorraine used to need support with her mental health… now she is the one supporting other people.
When Lorraine felt unable to leave her flat, her mental health support worker suggested she try a weekly cookery group run by Swale Your Way.
"I was nervous to go, but everyone was welcoming and it felt good to be a part of something. I began feeling like part of the community again."
As Lorraine's confidence grew she joined another Swale Your Way board game group.
Things were going well, but when Lorraine suffered a health setback she once again felt unable to leave her flat.  This time, Porchlight – which runs a service for people who feel isolated and cut off from others – was able to help.
"They sent a support worker Kim, who met with me at my flat. At first she drove me to a nearby café and back, but we began taking bigger and bigger steps as the weeks went on."
With Kim's help, Lorraine was eventually able to begin doing things by herself again and rejoined Swale Your Way groups. These days, she runs a Swale Your Way mental health group that supports people in similar situations and is also studying qualifications related to mental health support.
"I've come a long way. If anyone is in a similar situation to mine, I would like to tell them there is light at the end of the tunnel."
---

Megan's story
When someone has experienced trauma it can leave them feeling isolated and unable to live a full life. This is what happened to Megan (not her real name) who experienced homelessness and domestic abuse committed by family members. Unfortunately, overcoming these issues was not the end of her problems.
Because of the domestic violence I'd experienced, I became reliant on my current partner and too scared to leave the house unless he was there but I wanted to get my life back and do everyday things.
I began receiving support from Porchlight's Community Inclusion Service which works with people who feel isolated or cut off from others.
My support worker Holly would meet me in town for a coffee once a week. The first time my partner accompanied me, but after that it was just me and Holly. Every time we met it would be a little further away, and that made me realise I can do things without help.
That was six months ago. Now, I have regained control of my life, regularly taking solo trips to the gym, swimming pool and more. It's a big, big step for me to be doing these things. My mental strength is incredible now. I am able to walk down the high street with my head held high.
---
Alan's story
Alan's life used to be very different. He had a job and a home and was independent. All of this changed overnight when he was run over by a car. After the incident he had to sell his home due to his inability to care for himself and had to live with his elderly mother who has been caring for him ever since. He now suffers a brain injury, needs to use cochlear implants, cannot walk without a substantial frame and short-term memory loss. Many of his adult years were spent in isolation because of his physical health.
The support from Live Well Kent has been brilliant because I've been able to get out of the house and go to places I haven't been before. I am doing things instead of looking at the same 4 walls all day. I feel a lot happier.
It feels more like things are getting back to the way things were before.
I have felt totally isolated since the accident, 15 years ago. I didn't know where to turn or what to do.
Live Well Kent has given me the confidence to go to community groups and meet other people. I regularly go to a local arts and crafts group now, and at the groups I can sit for two hours or more talking to people and painting.
I found it hard to meet other people before. I am deaf because of the accident and I was always anxious about other people thinking I was ignoring them if I couldn't hear them. I like to think that I'm a useful person but there are difficulties that come about from being deaf.
Kim explained to her team and to people within the activity groups that it's not rude to bang on the table to get my attention if I can't hear them. She told them they need to look at me and speak clearly when they talk to me so I can lip read and work out what they are saying.
We are social animals who have evolved from apes and being able to talk to people is important to me. I initiate conversations and ask for people's help now. I wouldn't have done that before.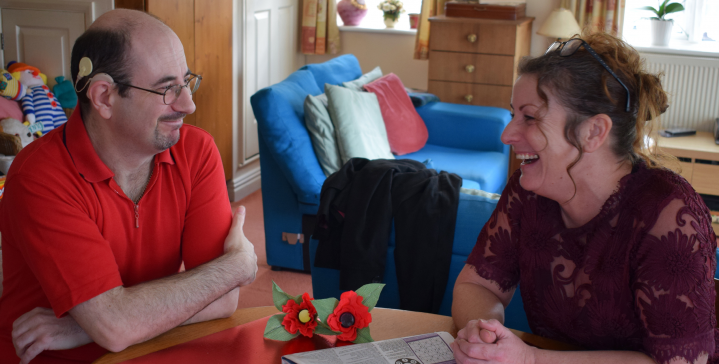 Before working with the Community Inclusion Service, I did not trust people. Now I trust people easier and quicker. I think it's because the Swale Your Way groups are always happy and it is contagious.
The team also found me Deaf Advocate from Kent Advocacy. I know that although I no longer have the Community Inclusion Service team to assist me, I still have support to help me with any issues that may arise.
---
Simone's story
In my previous life, when I was Simon, I was dreadfully unhappy. I knew I had two options: continue living miserably being the person I'm not, or embrace the person I am. I chose the second.
I always knew I was a woman, but I was in denial for many years. I also went through an extremely traumatic experience as a child. Because of this I have always suffered with my mental health.
I was worried about telling everyone the truth. Two years ago everything became too much and I had a breakdown. That's when I thought to myself enough is enough. I told myself real friends will support me and everyone else I'll have to leave behind. Luckily a lot of them did stand by me.
After I told everyone, my friends said I literally changed overnight from the person I was to who I am now. When I was Simon I wouldn't talk to anyone or look them in the eyes but now I feel more comfortable talking to other people.
My life felt like little pieces of a jigsaw puzzle thrown around the room. When I announced who I was it was like all the pieces of the jigsaw came together and made a complete picture.
Until recently I had regular therapy sessions, but I was discharged before I felt ready. After that I had no one I could speak to if things went downhill. Coping on your own with long-term mental illness is difficult and I ended up staying at home a lot on my own. Then I would dwell on things that aren't healthy.
SpeakUp CIC LGBT group has helped so much. You always expect the worse trying new things and I was scared about going to the group. When I did go, the first thing they asked me was "how would you like to be known?". That was so respectful and straight away I felt comfortable and like the people here understood me.
There is no judgement and people who have had similar experiences help, by sharing their coping mechanisms.
There are more good days than bad now and I can see my confidence growing. At some point I'd like to return to work and this group is helping me get to that point.
I have been getting back into wood work and art and have made furniture for the group. I also spoke recently with SpeakUp CIC at a mental health conference in front of 100 mental health professionals. Being able to stand up and share my story made me feel so empowered as a transgender woman. I also joined the group on a women's rights parade on International Women's Day with a banner we all worked hard to create together.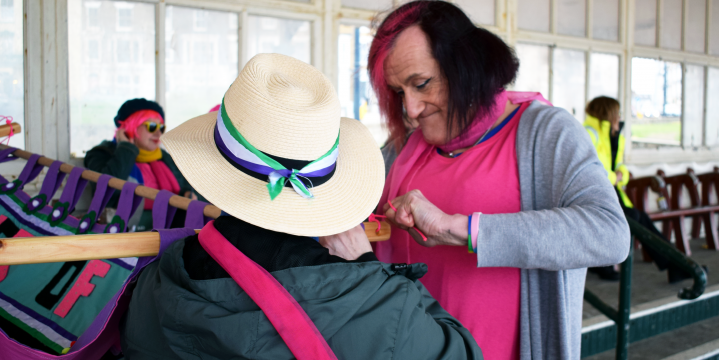 I still have difficulties, but my only regret is not speaking up about being a transgender woman sooner.
I can see how far I've come thanks to Speak Up CIC. Never underestimate how much of a difference these groups make.
---
Sandra's Story
When my son was 5 years old, he was diagnosed with autism. I found it hard to cope with that as well as the other stressful things that were happening with my family.
At that time, I had regular panic attacks and constantly felt anxious. I would sit at the computer all day, so I didn't have to go out and leave the house. I wasn't strong and I didn't have a voice. I was so timid.
I used to self-harm a lot. If things didn't go right, I'd cut myself. I also lived through domestic violence. I was on a bad path.
It got to a point where the anxiety and fear completely took hold of my life. It was a downward spiral and I could feel myself getting worse. If I had carried on, I don't know what would have happened.
I wanted to be there for my son and that pushed me to change because I knew I needed to change to be a better mum. I was tired of letting everything take control of my life. That's when I got in touch with Live Well Kent.
When it came to the day of my appointment, I was terrified of meeting up with my support worker, but I pushed myself to do it. I sat there with headphones in because I was so anxious and self-conscious.
I've been to different organisations for help in the past, but once the support finished, I'd shut myself away again.
Working with Live Well Kent was different though. For the first time I felt like someone really cared. If my support worker said she'd do something, she would do it. I knew I could contact her any time, and I knew that if it was out of her working hours, she'd reply when she was at work again. That helped me to build a lot of trust.
I've come so far from the person I used to be. I was a frail timid thing, now I have a voice and I want to give back.
I am working on getting a food hygiene certificate so I can volunteer with homeless people. I'm also doing a first aid course so I can volunteer with local organisations. I started a book folding group too, because I want to help people who are like I used to be. I've been selling some of these to raise money for Porchlight.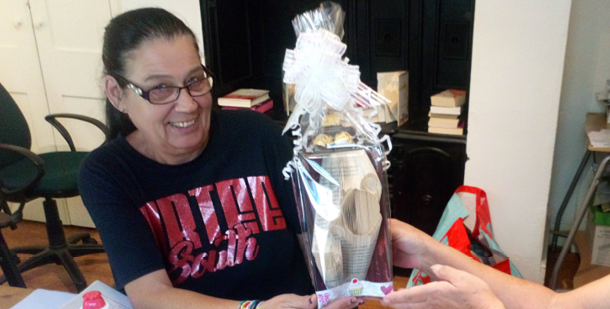 I even got to sit on some interview panels for Porchlight, and that really boosted my confidence. If you'd have said to me a year ago that I would be doing all of this, I wouldn't have believed it. The person I am today is completely different from the person I was last year, and for that I can't thank Porchlight and Live Well Kent enough.

My son knows now that I will protect him. Me and my son are moving forward to a better life and leaving everything else behind. We're in a good place now.  
---
Adrian's story
Adrian has borderline personality disorder and has suffered with depression and anxiety. He was very isolated, but since finding the courage to come to Live Well Kent's Music Appreciation Group things have become a lot better for Adrian. 
I was really down with depression before. I wouldn't go out, I wouldn't speak to people. I found it hard to get out and about. I was stuck in this little bubble and I had so many barriers up. I wouldn't have thought about setting foot outside.
One day I just thought, I've got to get out and do something.
I found out about the Music Appreciation Group through the internet. My wife said there must be groups out there who could help, so she helped me look. When we found out about the group she helped me find the courage to go. She said "go for it, what's the worst that can happen?"
It was really scary at first. I had so many barriers up but I met nice people. After a few times, it made me realise I didn't need to worry so much about other people. I learned there are people out there just like me – nice, genuine people. I didn't have to be scared or frightened at these groups and I could come out of my shell. I didn't have to be shy me, not trusting anyone, I could just be who I am.
I owe a lot to SpeakUp and Live Well Kent for the help this past year. I've changed a hell of a lot. Being able to be around people again has helped me so much.
I've pushed myself so far outside of my boundaries. I've helped organise events with the group and have even started writing poetry. I'm not very good at reading or writing, so that was a big deal for me. I wouldn't have even thought about it before.
Me being able to be more independent has been good for my marriage too. I never want to be a burden on my wife and I know she's had to adapt her lifestyle for me. She has really been my rock over the past two years. She's able to have a bit more time to herself now and she can see the changes in me.
To anyone thinking of joining a local group who is afraid, I would say just try it. Don't say no to things before you've given them a chance. I know it's scary but there are friends out there. There are people who are willing to help.
---
Anne's story
Before I contacted Live Well Kent I felt pretty much alone, it felt like such a relief to finally have someone listen to me. Someone who finally understood me. All my life people have not listened to me and have repeatedly told me I'm fine, when my life has never been normal. I've always struggled to maintain good mental health.
As well as autism, I have extreme sensory processing disorder which means I get overwhelmed easily. When there is too much happening, I can't process what is going on and I go into meltdown mode. I become very vulnerable and almost go into a child-like state. When I try to get help, people push me away because I appear threatening to them. Then what follows is depression and anger, and then I feel physically unwell. My body hurts and I feel sick.
My worker from Live Well Kent has understood more than others why I react the way I do sometimes, as she has worked with people with autism and complex needs before. She could read into my behaviours coaching me on how to cope better when I loose control.
Before I lived in Kent, doctors told me I was fine, so much that I believed it, and tried to live a normal life. I got a full time job and moved in with one of my friends. It didn't end well. I couldn't cope and things went downhill. I'd had enough of people not listening or understanding and I was getting no support at all.
I moved in with my brother to Kent and through Live Well Kent found the support I needed to move forward with my life.
My worker from Live Well Kent helped me get my autism diagnosed. It was a relief to finally know why I always felt different to everyone else. Now I have an official diagnosis, I will be able to access support specifically for autism.
My worker has also helped me apply for advocacy, as I'm not always able to be understood properly and need help communicating.
December is always hard for me because everywhere is busy, everyone gets stressed and normal routine is disrupted. All of this makes me feel stressed and my anxiety gets worse. It's a difficult month, but I know if things get out of hand, I can contact my worker to help me calm down.
One day I want teach yoga, mediation and mindfulness to SEN children. I want to help them feel hopeful and help them express themselves and be confident, like I was never able to as a child.
I am still processing everything that's been happening, so I am some way off from that, but I'm much closer to that goal than I was. I can see how far I've come and now I'm getting the right support, I will be able to lead a normal life.
---
Christian's story
Christian, who has bipolar disorder and has battled with depression, was able to turn his life around thanks to Live Well Kent. With the right support, he found a new sense of purpose, gaining qualifications and getting work with the mental health charity (and Live Well Kent partner) Mind.
"I learned to believe in myself again, gain skills and take a different direction," he said. "Live Well Kent and its health providers have taught me that if I accept who I am and recognise my skills and abilities there is no end to what I can achieve."
Christian has also become a volunteer mentor to others using the service. "I'm working with one of their clients who has been through a rough time with depression, helping him to gain skills and get into employment," he explained.
---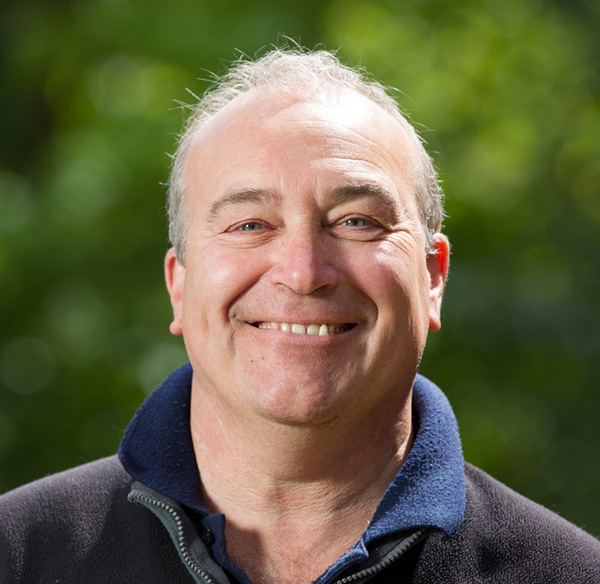 Gary
Live Well Kent client
Volunteer gardener and mentor
When I first arrived at Live Well Kent I took one step forward and I thought: Do I want to step in or do I run away? But I knew I needed help so I came in.
I found out about the service when I was in a recovery group for my mental health. I was experiencing anxiety, had low self-esteem and psychosis. I used to feel I was being watched all the time. I didn't like to be around other people and struggled in groups.
At Live Well Kent we talked about what they could do to assist me. One option was starting a gardening team and I thought voluntary work would be good for me. The garden was huge, overgrown and unkempt. I saw the potential of what we had here and for the first time I had a glimmer of hope. I knew it would it give me something to focus on, it would take away the bad thoughts I was having at the time.
Within weeks I was working on the project. Together with others I cleared the land, exposed plants and bushes, looking to see what we could salvage.
And eventually we started to see some progress. It was great for my self-esteem. By coming to the centre each day I feel a sense of achievement. It made me feel that I needed to come more and more and that there was hope.
I now have got the confidence to be around people. I can do more, I can go to public spaces. I don't experience so much anxiety.
Over the months, I've moved from being a mental health client to becoming a volunteer helping others in their recovery. I now mentor a group of clients who work in the garden. It gives me a great sense of achievement. And together we can see that what we're doing is helping us get better.
I now want to progress and continue my good work here.
---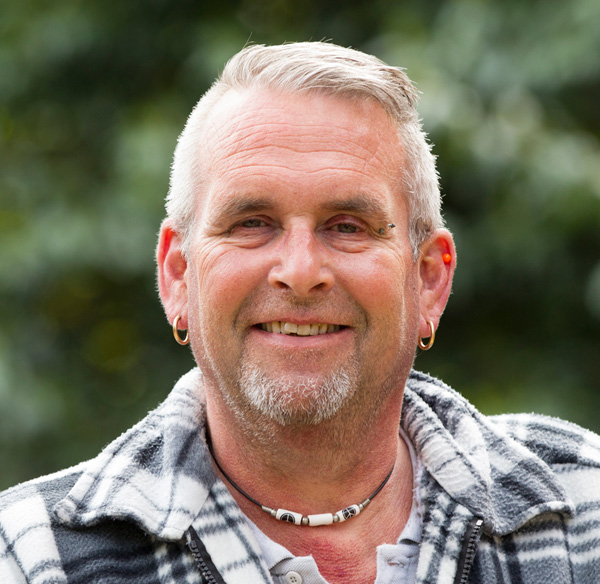 Chris
Live Well Kent client
Volunteer gardener and mentor
I thought my life had ended. I was suffering really badly with depression, anxiety and tried to commit suicide. I couldn't bring myself to talk to people. I used to stay indoors most days. I felt my life was meaningless.
Eight months ago I came to the Live Well Kent centre from another service. I knew I needed help.
I learnt about the gardening project and I thought I'd give it a go. At the start I didn't feel it was doing anything. Regardless of what I did, I still thought I was worthless. I felt I wasn't going anywhere.
And then it all changed. The work in the garden gave me a purpose. I had a reason to get up in the morning and I was feeling so much better. I had something to occupy me.
I still have a way to go but I feel 10 times better now. I enjoy being outdoors, being physically active. I have taken on more responsibility and I am a volunteer mentor for a few clients on our books. It's really good to see the change in others – they're silent when they first arrive and with time they open up, they're talking more. And it's nice to know I have had a little bit towards making them like that.
It's good to have a place where you make friends. Coming here is like seeing my family. I know I won't be judged. We've got a little community here. People from other classes come out and talk to us and enjoy the garden.
In the past I had singled myself out. I thought I was the only one going through problems. I now know there are others, that I'm not alone.
It can be hard to open up and you think it's a sign of weakness to look for help. But sometimes you have to lean in and swallow your pride because there's lots of help available, you just need to say something. And admitting you need help makes you stronger.
I've been given a lifeline and I want to do the same for others.